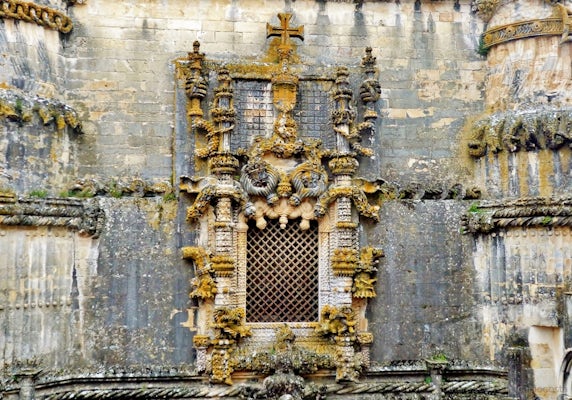 Info rapide
Cosa aspettarsi
Punto d'incontro
Recensioni
Hai domande?
Discover the knights Templar
Disponibilità:
See calendar
Durata:
Flessibile
Voucher sul cellulare accettato
Cosa farai
Include tutti i biglietti d'ingresso così da poter prenotare tutto insieme
Tutte le tasse, sovrapprezzi e costi sono inclusi per evitare sorprese all'ultimo momento
Finisci la giornata con una cena deliziosa
Fai una passeggiata in strada e diventa parte della città
Trasporto andata e ritorno al tuo hotel incluso per rendere il viaggio più facile
Esperienza unica - assolutamente qualcosa per cui scrivere a casa
Cosa aspettarsi
The Ribatejo region where the tour is based is a beautiful, green and tranquil area. We will give you an extraordinary experience in this magical region.
Within a short radius of our luxurious hotel are wonderful abbeys, castles and other sites that link directly to the Knights Templar, one of medieval Europe's most pivotal societies. The city of Tomar was the headquarters for the Order of the Knights Templar founded alongside Portugal itself. We will visit some of the most important and historical sites connected with the Knights Templar. But it will be much more than just visiting castles and abbeys. We will also show you the marvellous countryside and enjoy great food and wine.
There is much to see but there will be plenty of time to relax as well. Our intention is that you will have the experience of a life time.
The tour is designed for lovers of history, culture, and tradition. You will visit some of the most important historical Knights Templar locations in the world.
DAY 1
Arrival to Lisbon
Meet at the airport / train station / bus station and transfer to Tomar (+- 1h)
Short introductory walk around Tomar (depending on arrival time). Free time until the evening meeting and dinner.
DAY 2
Tomar
Full day visit to Tomar with a morning introductory walk in the centre passing the main monuments and points of interest. The day will be partly guided to give a full background to the buildings and history of Tomar however there will be free time to enjoy & soak up the atmosphere of this special town.
DAY 3
Serra de Aires Natural Park
Today we visit the Serra de Aires Natural Park. This range of limestone hills is home to fantastic cave formations and we will visit the best.
In the afternoon we will walk trails down the valley below the caves taking us through quaint villages, shady paths and superb scenery as the valley opens out.
DAY 4
Tejo Valley
Our visit today will be to the valley of the river Tejo and the hauntingly beautiful castle of Almourol.
We will begin with a walk from the riverside village of Vila Nova de Barquinha and follow the river to the village of Tancos where a traditional boat will ferry us to the castle on its island in the river.
DAY 5
Batalha Abbey & Alcobaça Abbey
Trip to Batalha Abbey, a World Heritage site and one of Europe's greatest Gothic masterpieces. After lunch visit the world heritage site of the 12th century Abbey of Alcobaça, originally given to St Bernard of Clairvaux the founder of the Knights Templar and the burial site of Portugal's most famous royal lovers. Dinner in a local restaurant.
DAY 6
North of Tomar
The beautiful River Nabão is named after the ancient goddess of rivers and water. Our walk this morning follows the margins of the river north of Tomar and, at times, our route coincides with the Portuguese Caminho de Santiago. Later we refresh ourselves with a visit to a nearby winery to taste some of the delicious Ribatejo wines. Dinner in a local restaurant.
DAY 7
Ourém
Today we visit Ourém. This remarkable hilltop village nestled within ancient walls is topped with a dramatic castle whose origins go back to Moorish times. We will have a guided tour of the village and castle after which we have time to relax in the local café and enjoy the views over the immense landscapes below. Dinner in a local restaurant.
DAY 8
Departure
After breakfast transfer to Lisbon airport / train station /bus station.
(We all travel together to Lisbon, the clients going in the first flight will be transferred directly to the airport, and the clients on the second flight will have time off in Lisbon while waiting until transfer to airport.)
Cosa è incluso
Spese d'ingresso
Cena
Colazione
Tour guidato
Autista
Soggiorno di sette notti
Trasporto
Cosa non è incluso
Alcolici (possono essere acquistati sul posto)
Cibo e drink extra
Mance (facoltative)
Mostre aggiuntive
Da ricordare
During checkout you'll be asked to provide the your flight details for the pick-up.
Commissioni di prenotazione
Buone notizie! Non sono applicate commissioni di servizio a questa prenotazione.
Ti potrebbe piacere anche