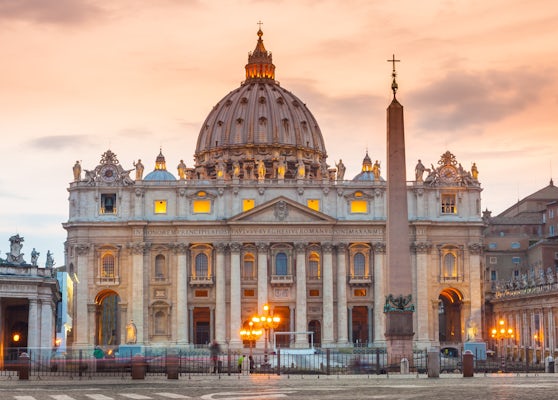 Info rapide
Cosa aspettarsi
Punto d'incontro
Recensioni
Hai domande?
Vatican Tickets, Roma Pass and Walk-on Walk-off tour pass (with 10 tours)
Durata:
Flessibile
Lingua:
Inglese
Voucher sul cellulare accettato
SALTA LA CODA
Cosa farai
Enjoy complete flexibility: there is no need to reserve your place in advance, just show up 10 minutes before the departure time and take the tour
Includes Roma Pass and a skip the line Vatican ticket which allows you to visit the Colosseum, Roman Forum, and Vatican Museums
Unlimited redemptions: If you like a tour, take it twice – hey, it's your vacation
Attraction tours include the Pantheon, Colosseum, Roman Forum, Circus Maximus, Palatine Hill, Piazza Navona, and more!
Cosa aspettarsi
This innovative new tour pass lets you explore Rome's most iconic neighborhoods and attractions with complete flexibility and zero commitment. Choose between 10 walking tours, each 60 – 90 minutes long. There's no need to reserve in advance; just show up at the meeting point of any tour ten minutes before the start time and walk on.
Rome is the most attraction-packed city in the world. If you want to unlock it with the help of local guides and see all the best parts in a single vacation, you need a special type of tour pass. The Walk on Walk off Pass gives you access to 10 different tours anytime during a 7-day period. All you have to do is decide what you want to see that day and be at the designated meeting point five minutes before it starts. This pass also includes a Roma Pass and Vatican Pass, which give you free access to the Colosseum, Roman Forum and Palatine Hill, as well as special timed access to the Vatican museums so you can skip the long entrance lines. Tours include:
Exploring The Colosseum and Roman Forum, where you'll get an introduction to the quintessential buildings of history's most iconic empire and learn fascinating stories about an ancient people who were startlingly modern. With your Roma Pass, you'll also step inside the Colosseum and walk among the ruins of the Roman Forum and Palatine Hill.
Getting acquainted with St. Peter's and the Vatican, where you'll get the answers to all those questions about Catholicism that you learned once and then forgot. Why are Popes so powerful and why don't they like to wear beards? How did the Vatican get to be considered its own state? What's up with the colorfully-dressed Swiss guards? After the tour your guide will help you schedule your timed Vatican Museums entry so you can skip most of the notoriously long lines and enjoy a self-guided visit through their world-famous art collection, including the Sistine Chapel, Raphael Rooms, and more.
Taking in the flavors and aromas of Campo Dei Fiori. Feeling hungry? In one of Rome's oldest food markets a local will introduce you to the flavors of the city along with where and what to eat during your stay. You'll also enjoy a sweet treat.
Experiencing the Piazza Navona and the Pantheon, Rome's favorite free attractions. The first is home to Bernini's Fountain of the Four Rivers, the second is the greatest surviving work of ancient Roman Architecture. Taken together, they will leave you breathless.
Taking a stroll through silver-screen history at the Trevi Fountain and the Spanish Steps. Rome isn't all ancient history; these comparatively new monuments are beloved by both locals and visitors. See spots where iconic movies like La Dolce Vita and Roman Holiday were filmed, just don't go wading in the fountain.
Diving into the bustling local neighborhood of Trastevere to learn the local lore and visit one of Rome's most beloved churches, Santa Maria in Trastevere. You'll see how real Romans live and enjoy some of the most picturesque streets in the city.
Shivering through a ghost tour. Rome isn't known for its ghosts, but it's a city jam-packed with creepy stories. From public executions to macabre funerary art and a horrific murder trial, the Eternal City has a rich culture of death.
Tracing Julius Caesar's Life and Times. Rome's greatest ruler had an interesting life, to say the least. Walk in his footsteps - sometimes literally on the same stones he walked on - as you trace his life from birth to the very spot where he was assassinated.
Learning about The Circus Maximus, Palatine Hill and Aventine Hill, which form part of the geographic foundations of ancient Rome. Immerse yourself in the city's founding myths and see one of the largest sports stadiums ever constructed before being treated to jaw-dropping views over the city.
Discovering the Jewish ghetto, which is home to one of the oldest Jewish communities in Europe, and not coincidentally, some of Rome's best restaurants. You'll learn about the terrible oppression that Rome's Jews suffered but also how they were able to transcend it to shape the society around them.
Cosa è incluso
Roma Pass (including Skip the line Colosseum tickets, Roman Forum, Palatine Hill and more)
Skip the line Vatican Museum tickets
10 walking tours across Rome
Rome Tour Pass
Printed timetable & meeting point maps
Handy guide for visiting the Colosseum/Roman Forum/Palatine Hill & Vatican Museum
Expert local guides
Cosa non è incluso
Gratuities
Hotel pick-up/drop-off
Da ricordare
At checkout, please select the date you would like to activate your pass
Tours are in English only
Passes are valid for 7 days from validation by the pass holder only. Passes are non-transferable
Pocket-sized timetables and maps will be given to you on your first tour
Group size varies 20-25 people per guide
60 - 90 minutes per tour
Vatican tickets may not be redeemed on any Sunday or Mar 31, Apr 2, May 1, June 29, Aug 14, Aug 15, Sept 27, 2018
Roma Passes may not be redeemed on the first Sunday of the month or Mar 29, Mar 30, Apr 8, Apr 25, May 1, May 20, 2018.
Gratuities to guides are appreciated but never obligatory
Please note that guests must arrive 10 minutes before tour departure time
While our Food Tour does include tastings, we may not be able to make substitutions for those with dietary requirements. Please advise guide at beginning of the tour of any dietary requirements
Please remember that the Sistine Chapel is a holy place, and attire must be appropriate for the visit. Both men and women are asked to wear clothing that covers at least the shoulders and knees
Please note that guests may only carry small handbags inside the Vatican Museums. Larger backpacks etc must be left at the cloakroom. It is the responsibility of the guest to return to the Vatican Museums entrance to collect these after the tour
The Colosseum has changed its admission policy to ensure that only 3,000 people are allowed within the amphitheater at any given time, meaning much less crowding during busy periods. Although our tickets are pre-booked with Skip the Line access, this may mean a slight delay on entering if capacity has already been reached. We expect that the instances of this will be limited but ask for your patience if you travel on a busy day and are affected by this unavoidable circumstance. In all, it should make for a much nicer experience for all (and longer general access lines!)
The Colosseum is subject to occasional closures. The Colosseum administration is usually aware of this and informs us the day before or of a given closure. Please provide us with detailed contact information in the event that we need to reach you to reschedule your tour
All guests need to pass through a security check before entering the Colosseum. Please note that only small backpacks and regular-size handbags are allowed inside. Since there are no storage facilities, guests with larger bags will be denied entrance. Do not bring with you any sharp objects such as knives, or large bulky items such as big umbrellas. The Colosseum and Roman Forum are ancient sites that are neither wheelchair nor stroller friendly
Unfortunately, we are unable to accommodate guests with mobility impairments, wheelchairs or strollers on this tour
Comfortable walking shoes recommended
Quando
Colosseum & Roman Forum Tour (Including Entrance): Departs 9.00am & 3.00pm. Every Day. Meeting Point: At the base of the statue in Piazza del Campidoglio.
Vatican City & St Peter's Square Tour (Including Vatican Entrance): Departs 2.00pm. Every day. Meeting Point: The green kiosk cafe called 'L'Ottogano' in the centre of Piazza del Risorgimento.
Circus Maximus to Aventine Keyhole Tour: Departs 10.30am. Weds, Fri, Sun. Meeting Point: Metro exit for Circo Massimo on Viale Aventino 6, by the green information & souvenir kiosk.
Food & Markets Tour: Departs 11.00am. Mon, Tue, Thu, Fri. Meeting Point: At the base of the statue in Campo dei Fiori.
Piazza Navona & Pantheon Tour: Departs 1.00pm. Every day. Meeting Point: In Piazza Navona, in front of the Brazilian Embassy
Spanish Steps & Trevi Fountain Tour: Departs 4.00pm. Every day. Meeting Point: The column at the top of the Spanish Steps.
Life & Times of Julius Caesar: Departs 5.00pm Tue, Thu, Sat. Meeting Point: At the tower on the corner of Largo di Torre Argentina.
Jewish Ghetto Tour: Departs 5.30pm Mon, Wed, Fri, Sun. Meeting Point: On Ponte Fabricio.
Trastevere Stroll: Departs 7.00pm. Every day. Meeting Point: In Piazza Trilussa at the top of the steps by the fountain.
Ghost Tour: Departs 9.00pm Tue, Thu, Sat. Meeting Point: At the base of the statue in Campo dei Fiori.
Commissioni di prenotazione
Buone notizie! Non sono applicate commissioni di servizio a questa prenotazione.
Ti potrebbe piacere anche