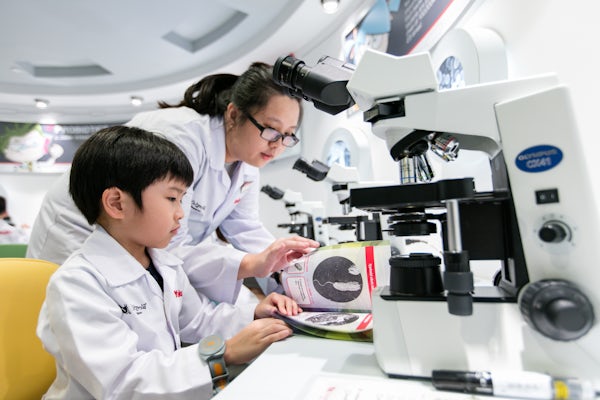 Informação rápida
O que esperar
Ponto de encontro
Reviews
Faça uma pergunta
KidZania Singapore E-ticket
Disponibilidade:
See calendar
duração:
Flexível
Somente bilhete impresso
CONFERMA ISTANTANEA
Faça isso porque
Enter a theme park designed for kids to role play a variety of professionsExplore a complete city with a hospital, bank, fire station, beauty salon, supermarket, television station, theatre, pizzeria, and moreImmerse your kids in grown-up responsibilities and the workings of a modern city
O que esperar
KidZania Singapore is an interactive indoor theme park, where children aged four to 12 can experience real-life jobs in a role-playing environment. This child-geared activity centre located in Palawan Beach at Sentosa occupies a total of 81,000 square feet and comes complete with a functioning economy, paved streets, moving vehicles, and buildings. KidZania offers nearly 100 role-playing activities in more than 60 establishments with a range of difficulty to meet the abilities and interests of every child.

By allowing kids to role play, one of the most powerful learning tools, the park cultivates the realisation of dream jobs and day-to-day adult challenges in an engaging play space. Kids learn to pilot an airplane, perform surgery, practice photography, or even create a culinary masterpiece. Apart from all these adventures, this Sentosa attraction also presents a full-wing fuselage of a real Boeing 737.

"Zupervisors" are around to provide support for each activity. Kids work to earn kidZos, KidZania's own currency, so they can pay for goods and services in the KidZania city. Parents are encouraged to come and cheer on their kids.
O que está incluído
Admission fee
O que não está incluído
Personal expensesTransfer services
Onde
O que lembrar
Notes:
- Adults entering KidZania Singapore must always have a child in tow.
- This is strictly for a one-time entry only. Re-entry is not permitted.
- Temporary exits are not allowed for kids at all times.
Taxa de reserva
Boas notícias! Nenhuma taxa extra é aplicada a esta reserva.