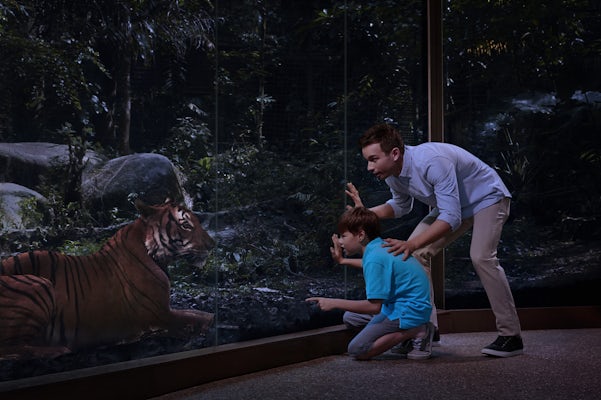 Info rapide
Cosa aspettarsi
Punto d'incontro
Recensioni
Hai domande?
Singapore Night Safari
Disponibilità:
See calendar
Durata:
Flessibile
È necessario stampare il voucher
CONFERMA ISTANTANEA
Cosa farai
Meet over 2,500 animals at the world's first nocturnal wildlife parkEnhance your Night Safari experience with the guided tram ride in EnglishEnjoy flexibility with this open-dated ticket to the Night SafariChoose from the available add-on options, Multilingual tram ride, Asian or Indian buffet dinner to upgrade your Night Safari visitComplete your wildlife adventure and select the combo options to also explore River Safari or Singapore Zoo on top of your Night Safari ticket
Cosa aspettarsi
Opened in 1994, the Singapore Night Safari is the first nocturnal wildlife park in the world. It is home to more than 2,500 nocturnal animals that can be viewed inside their natural habitats. A guided tram ride gives you the opportunity to get closer to the animals, which have been categorised according to six geographical zones.

Should you prefer to walk around the trails, you might chance upon Malayan flying foxes and giant flying squirrels walking closer to you. Also featured in the safari are the Wallaby Trail, where native Australian wildlife can be found, and the Fishing Cat Trail, where you can witness the cats' nightly hunt by the river. Apart from the animal encounters, the Singapore Night Safari also showcases the Thumbuakar performance involving tribal warriors executing intense stunts.
Cosa è incluso
Admission feeTram RideAnimal show
Cosa non è incluso
Personal expensesTipsTransfer services
Dove
Da ricordare
Opening hours:
- Night Safari is open daily from 19:15 to 00:00.
- Last admission is at 23:15.

Ticket redemption instructions:
- Please secure your preferred timeslot at https://reseller.wrs.com.sg/ticketstore/guestbooktimeslot
- Once guests booked the timeslot online, no changes are allowed. Ticket will be valid as per the date and time that have been selected.
- In the event that guests do not secure the timeslot prior to their Night Safari visit, admission timeslot will be subject to availability on the day of redemption: 19:15, 20:15, 21:15, or 22:15. Should the preferred timing not be available, kindly choose the next available timeslot for admission. Admission for the 21:15 timeslot cannot be changed to other timeslots.
- Should you wish to check the available admission timeslots before making your way to the Night Safari, please contact the WRS Ticket Office at (65) 6269 3411 or enquiry@wrs.com.sg. You may also log onto https://store.wrs.com.sg/singlepark to check the availability of the admission timeslots.
- Admission tickets can be redeemed only on the date of use. Once redeemed, no changes are permitted.

Show schedule:
- Thumbuakar Performance: Daily except on Wednesdays at 19:00, 20:00, and 21:00. The show is also available at 22:00 on Friday, Saturday, and eve of public holidays.
- Creatures of the Night Show: Daily at 19:30, 20:30, and 21:30. The show is also available at 22:30 on Friday, Saturday, and eve of public holidays.
- Please note that from 09 February 2018, the first timing for the Thumbuakar Performance and Creatures of the Night shows will be adjusted permanently to 18:45 and 19:15 respectively.

Show reminders:
- The open-air show is free seating, so seats are not guaranteed.
- It is best to be at the venue at least 15 minutes before your preferred show schedule.

• Menu for Asian Buffet Dinner Add-on:
• Appetizer:
- Ulu Fish Platter
- Assorted Japanese Sushi & Maki (Served with Wasabi, Shoyu, and Pickled Ginger)
- Marinated Clams with Thai Chilli Sauce
- Potato Salad
- Tamatar Salad
- Ulu Ulu Cold Cut Platter
- Mixed Green Salad
• Dressing
- Thousand Island
- Sesame
• Soup:
- Cream of Mixed Vegetables
- Japanese Miso Soup (Served with Tofu Cubes, Cut Wakame, and Spring Onion)
- Wholemeal Roll, Soft Roll, Hard Roll, Plain Naan
- Portioned butter
• Hot Selections:
- Kung Po Chicken
- Sweet & Sour Fish with Capsicum
- Hong Kong Roast (with Hoi Sin Sauce, Plum Sauce, and Sambal Chilli)
- Thai Baby Kai Lan with Vegetarian Oyster Sauce & Poku Mushrooms
- Yellow Dhal Chicken & Lamb Satay with Lontong Rice, Diced Onion, Cucumber & Spicy Peanut Gravy
- Pan Fried Salmon with Lemon Butter Sauce
- Chicken Tikka with Raita, Papadum
- Grilled Szechuan Lamb Chops
- Linguine Aglio Olio (Linguine tossed with Olive Oil, Garlic & Fresh Chilli on the side)
- Nasi Kuning (Yellow Rice)
- Steamed Fragrant Rice
• Desserts:
- Assorted French Pastries
- Selection of Tropical Fresh Fruit
- Almond Beancurd with Longan
- Ice‐cream
- Freshly Brewed Coffee and tea

• Menu for Indian Buffet Dinner Add-on:
• Vegetarian Cold Selections
- Leafy Green, Cherry Tomatoes, Cucumber Slices
- Red Cabbage Julienne, Capsicum Rings, Onion Rings and Carrot Julienne
• Vegetarian Hot Selections
- Aloo Bhaji
- Chole Chana
- Plain Naan
- Briyani Rice
- Steamed Rice
• Condiments
- Papadum, Lemon Wedge, and Plain Yoghurt
• Non-Vegetarian Hot Selections
- Lamb Rogan Rish
- Fish Curry
• Desserts
- Seasonal Fresh Fruits Cubes
- Assorted Ice Cream
Commissioni di prenotazione
Buone notizie! Non sono applicate commissioni di servizio a questa prenotazione.
Ti potrebbe piacere anche