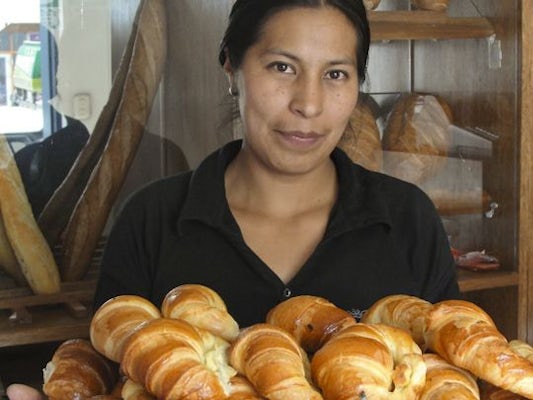 Kurzbeschreibung
Beschreibung
Treffpunkt
Bewertungen
Kundenservice
Cusco Discovery Tour: A Youth Center and Bakery
Dauer:
Flexibel
Nur ausgedruckte Tickets
Highlights
Visit an all-in-one hostel, bakery, and workshop base that serves vagabond youth while supporting its mission to improve lives..Understand the sense of community fostered through training and literary education..Try delicious baked goods made by the young chefs.
Beschreibung
Qosqo Maki is an NGO dedicated to providing a supportive environment to uplift children from destitution. Come find out for yourself how this groundbreaking initiative is currently changing dozens of lives. Arrive and make yourself comfortable right away at at our charming complex, which features overnight accommodation, a library, and a deluxe French cafe. Meet Qosqo Maki's passionate founder, discuss the latest projects with a team member, and take a tour of the facilities. Participate in community activities and workshops supported by leading journalists and educators, and if you're bold, propose one yourself! After spending a night in one of the cozy rooms, start off your day with a scrumptious breakfast at Qosqo Maki's cafe. Try some of the fresh croissants, pain au chocolat, or roasted coffee. Everything is made by young men and women who have transformed their lives through culinary skills learned through Qosqo Maki workshops, which feature genuine French chefs.
Buchungsgebühr
Es fallen keine zusätzlichen Gebühren im Falle einer Buchung an.
Dies könnte Ihnen ebenfalls gefallen