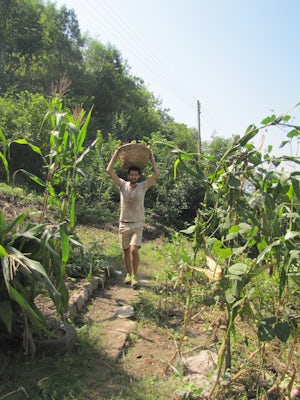 Información básica
Qué te espera
Lugar de encuentro
Opiniones
¿Tienes preguntas?
India Adventure Tour: Mountain Culture in Himachal Pradesh
Duración:
Flexible
Es necesario imprimir el bono / entrada
Ventajas
Discover Himachal Pradesh's mountain culture while helping to support clean water initiatives across India..Visit Shimla, the state's modern capital once the home of British Army officials during their rule over India..Visit a women's cooperative and get to know local women to better understand female empowerment in Himachal Pradesh.
Qué te espera
The tour will focus on the preservation and promotion of Himachal Pradesh's mountain culture. Himachal Pradesh, a northern Indian state, is known for its scenic beauty, pleasant climate, humble people and simple lifestyle. The Himachali people are deeply connected with their religious beliefs and cultural traditions. This tour will provide you with the opportunity to gain a deeper understanding of India village life! Day 1: After a welcome drink, participate in an hour-long presentation and learn about local tradition, culture, and socio-economics. After, get acquainted with your surroundings on an educational walk to the nearest village.Day 2: Visit a local village and meet a local Himachai family. Join in their agricultural routine (ploughing, harvesting, planting, weeding, etc.) and enjoy a tasty, traditional lunch with the family after a morning's work. In the afternoon, visit a water conservation site and learn about the impact of water shortage in India.Day 3: Discover the Mohan Heritage Park and gain a better understanding Hindu culture and religious customs. Explore ancient rituals at a traditional temple before a visit to Kasauli – a tiny hilltop station.Day 4: Visit Shimla – the state's capital city – by bus or taxi. Here you are certain to notice a unique combination of mountain architecture and British construction. Enjoy a relaxing night's stay at the YMCA Hostel in Shimla.Day 5: Take a train ride to Dharampur. From there, you will be accompanied to your accommodation via taxi.Day 6:Visit a women's cooperative and interact with local ladies to better understand female empowerment in India. After lunch in Gurudwara – the famous Sikh center for workshop – ensure that you're packed and ready for the following evening.Day 7:Departure for Chandigarh and, if you so desire, learn how to cook authentic Indian food in the RUCHI kitchen.Tour includes:- Accommodation (twin bed)- Bottled water- Soft drinks- Meals- Snacks- Transportation - English-speaking guide
Cargo por reserva
¡Buenas noticias! Esta reserva no tiene ningún cargo adicional.
También puede interesarte
Lo siento, se agotaron las entradas