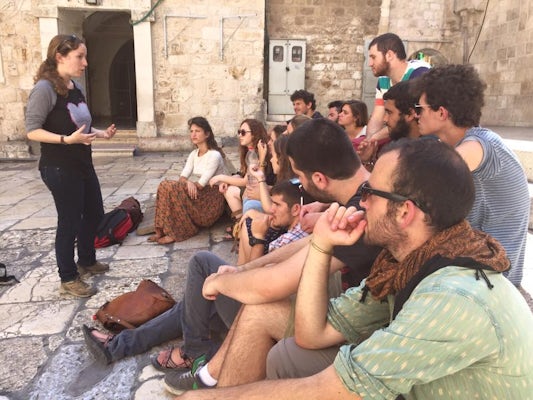 Aperçu
Ce qui vous attend
Lieu de rendez-vous
Avis
Poser une question
Jerusalem Discovery Tour: Celebrate Cultural Diversity
Durée:
Flexible
Billet imprimé obligatoire
Points forts
Take a brisk walking tour through the storied streets of Jerusalem, and help marginalized citizens achieve social equality..Experience the full extent of the cultural medley in Jerusalem with a taste of Ethiopian cuisine..Observe the immense struggles faced by the residents of both Katamonim and Beit Safafa, and support their well-being just by listening to their untold stories.
Ce qui vous attend
Bakehila's tour will enable you to visit two of the most historically conflicted neighborhoods in Jerusalem- Katamonim and Beit Safafa. Today, they represent the extreme social, cultural, and economic gaps in Israel. The ethnically diverse neighborhood of Katamonim with which Bakehila has been operating for over 10 years includes a wide cultural variety of residents. For many decades it has been a strong symbol of racial discrimination in Israel. You will examine the complicated relationship between this society and its diverse residents while delving into the complexities of social and educational work in a multicultural environment. You will visit the neighborhood and see the developing initiatives first-hand. You will experience the unique atmosphere of the neighborhood made up of the near and distant cultures of the East and the West. From there, you will continue on to Beit Safafa, a neighborhood that has witnessed the problems of the Arab-Israeli conflict in the past. Examine the deep identity struggles of the local residents who are currently trying to be part of Westernized civilization while maintaining their traditional heritages. During the tour, you will encounter the difficult questions that Bakehila faces in its work within the community, and you will see the various projects and initiatives that have been developed inside the neighborhood as a response to its challenges. A tour of these neighborhoods with Bakehila will unveil the story of Katamonim and Beit Safafa's history, struggles, desperation, and hope for a better future. You will receive a behind-the-scenes look at neighborhoods that remain in the margins of Israeli society, neighborhoods whose situation most of Israeli society prefers to ignore. You will also have the opportunity to see beyond the harsh reality of these towns and get to know the warm and loving people whose stories have yet to be told.
Frais de service
Bonne nouvelle! Aucun frais supplémentaire n'est appliqué à cette réservation.
Ceci pourrait également vous plaire
Désolé, il n'y a plus de place