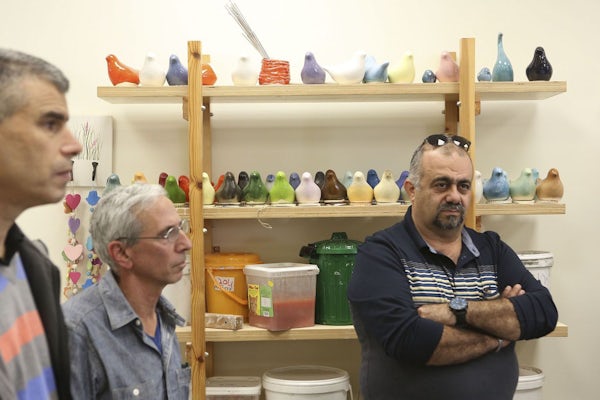 Kurzbeschreibung
Beschreibung
Treffpunkt
Bewertungen
Kundenservice
Israel Art Workshop: Art in the Special Needs Community
Dauer:
Flexibel
Nur ausgedruckte Tickets
Highlights
Visit a café-restaurant in Kfar Vradim while supporting a community of people with special needs creating incredible art products..Create your own product while simulating a disability, gaining an appreciation for the work done by the special needs community..Meet adults with special needs and see how they create art products like necklaces, serving dishes, and more.
Beschreibung
When you arrive at Maarag, you will be greeted by one of the team members and given an overview of the importance of this beautiful café-restaurant. Immerse yourself in Maarag, and see the equal and daily interaction between people with special needs and the "normative population." Tour Maarag's workshops for a little over an hour, and see the many art products that the members create: necklaces, plates, serving dishes, mobiles for babies, and more. These products are sold at regular prices on the market! Then try your hand at creating one of these products while simulating a disability, using large gloves, special glasses, or other tools. Appreciate the work of the members through this immersive experience. Finally, enjoy a light meal in the wonderful café-restaurant.
Buchungsgebühr
Es fallen keine zusätzlichen Gebühren im Falle einer Buchung an.
Dies könnte Ihnen ebenfalls gefallen