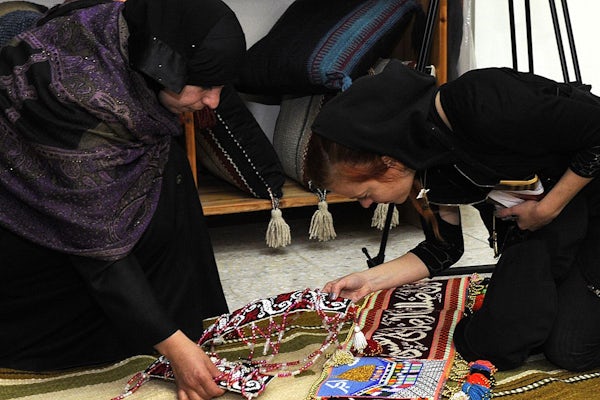 Info rapide
Cosa aspettarsi
Punto d'incontro
Recensioni
Hai domande?
Israel Desert Discovery Tour: Bedouin Culture and Weaving
Durata:
Flessibile
È necessario stampare il voucher
Cosa farai
Experience the fabrics of life in culturally-rich Israel, and encourage women to pursue financial independence..Treat yourself to the mouthwatering essence of Makluba, a traditional staple of Israeli cuisine..Embrace the compelling history of Lakiya Village from remarkable viewpoints, and let the anecdotes of its oldest residents bring the awe-inspiring story of the desert civilization to life.
Cosa aspettarsi
Your journey will begin at the stunning Bedouin community of Lakiya in southern Israel, where you will get a hands-on experience of life in Old-World society. You will meet two of our town's wisest and most well traveled residents in order to focalize the history and culture of the city- Yusef-Ali and his wife Sabha. Yusef-Ali built his home with his own two hands, as well as the surrounding compound and terrace that accommodates the needs of travelers. His commitment to labor and constant activity hardly shows in his seven-decade-old stature. Sabha has stayed by his side for most of her life and is one of our town's most talented weavers. The weaving project has allowed her to express her talents and support her family, all while empowering her to be strong and independent. This resilient couple will welcome you to their residence, which overlooks the majestic vastness of the desert. They will share anecdotes about their many experiences in Lakiya and teach you to make the delicious Bedouin Pita dish. You will then visit the atypical Huriah Palace, a 200-year-old dwelling built from the traditional Bedouin method of combining mud, stones, and straw. You will learn about the Abu-Keren family and their one-of-a-kind wedding story, as well as the significance of jewelry and attire in our culture over a cup of sweet Bedourin tea and fresh coffee. The ancient family residence is now a visitor's center, whose gates open into the history and tradition of the region.You will continue to the Sidreh-Lakiya Weaving Project complex, where we will share the details of our mission and ideology of the independence movement for women. Together, we will have another taste of Bedouin's exotic cuisine. In a large tent, you will try the traditional Makluba dish, which is served on large round trays. We will all gather around a low table, sitting comfortably on pillows to enjoy this experience. See you soon!
Commissioni di prenotazione
Buone notizie! Non sono applicate commissioni di servizio a questa prenotazione.
Ti potrebbe piacere anche