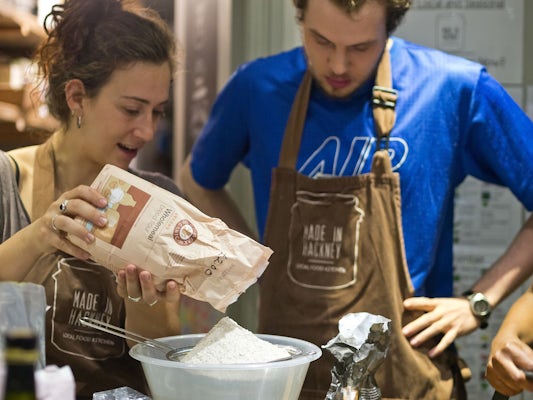 Informação rápida
O que esperar
Ponto de encontro
Reviews
Faça uma pergunta
London Cooking Class: Learn to Cook Organic, Locally Grown Food
duração:
Flexível
Somente bilhete impresso
Faça isso porque
Enjoy an action-packed, fun, and practical cooking course with 100% plant-based ingredients while supporting programs delivering healthy eating workshops to groups in need..Sample the delicious meal you have created with local, seasonal, and organic ingredients..Meet and connect with local foodies under the leadership of your renowned instructor.
O que esperar
Spend an afternoon perfecting your cooking skills in a Made in Hackney masterclass! Let their renowned cooking, baking, and nutrition teachers lead you in an action-packed, hands-on, uniquely-themed culinary class. Themes include sourdough bread making, gluten-free baking, gourmet vegan food, eating for optimum health, plant-based fitness, raw desserts and chocolate, raw food, live cultures & ferments, authentic Indian, Middle Eastern feasts, wild food, vegan Japanese, and more. Each class concludes with a delicious local, seasonal, and organic tasting and take-home treats! This program can be adjusted for food allergies with prior notice. Please be aware that the kitchen is located downstairs and is not accessible by elevator.Upcoming masterclasses:Saturday, March 3, 2018 at 10 AM - Healthy Vegan (Introduction to Nutrition & Cooking) with Daphné DuvalSaturday, March 10, 2018 at 12 PM - VIP Series: Tonics, Teas & Fermentation with Rachel de ThampleSaturday, March 17, 2018 at 10 AM - Fermentation with Asa Linea SimonssonSunday, March 18, 2018 at 12 PM - Life Beyond Cheese with Ellie Phoebe BrownSaturday, April 21, 2018 at 10 AM - Healthy-Ish Vegan Junk Food with Ellie Phoebe BrownSunday, May 13, 2018 at 12 PM - Artisan Breadmaking Made Easy with Colin Wilkie-JonesSaturday, June 16, 2018 at 10 AM - Nut Cheese with Bruna Oliveira
Taxa de reserva
Boas notícias! Nenhuma taxa extra é aplicada a esta reserva.