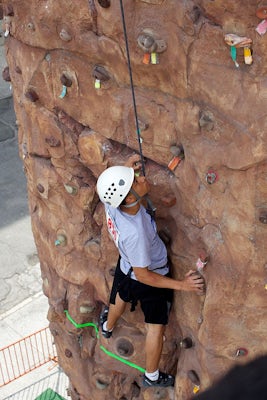 Información básica
Qué te espera
Lugar de encuentro
Opiniones
¿Tienes preguntas?
NYC Climbing Tour: Climb the Largest Outdoor Climbing Wall in NYC
Duración:
Flexible
Es necesario imprimir el bono / entrada
Ventajas
Climb the largest outdoor climbing wall in New York City while helping provide local public school students with free climbing and character-building experiences..Work with your team to construct a device to protect an egg from a 60-foot fall..Develop communication, leadership, and problem-solving skills while enjoying a fun day outdoors with your team.
Qué te espera
Climb the largest outdoor climbing wall in NYC and, through thoughtful facilitation, learn to take risks, try new ideas, and master skills tailored to your team's specific goals and needs. This program will include a mixture of problem-solving and trust-building activities, rock climbing, reflection, and celebration. Learn to climb and belay, providing the opportunity to collaborate and communicate effectively in an exciting, adventurous undertaking! Break into smaller teams and try your hand at designing a device to support the 60' fall of an egg. With time pressure and limited resources, this activity is fun, high energy, and competitive. Sample itinerary:- Arrival and introductions - Group juggle: Teams must work together to keep numerous objects in the air. - Feedback and communication trust initiatives: Learn to "spot" a partner and to "spot" as part of a group. This activity helps build physical trust so participants will be comfortable working together closely.- Problem Solving Initiative - Climbing school: Learn everything you need to know about helmets, harnesses, and belaying before taking to the wall.- Climbing: Scale the largest outdoor climbing wall in NYC! This activity can be tailored to be more individual or group focused.- "The Great NYC Outward Bound Egg Drop" Team Challenge: Work as a team to construct a protective and attractive package for a raw egg that, hopefully, will sustain a drop of 60' onto a hard surface. - Final team debrief: Develop a 2-minute presentation on the types of leadership surfaced and how participants plan to apply this information to their own environment back at work. - Closing circle and departure
Cargo por reserva
¡Buenas noticias! Esta reserva no tiene ningún cargo adicional.
También puede interesarte
Lo siento, se agotaron las entradas