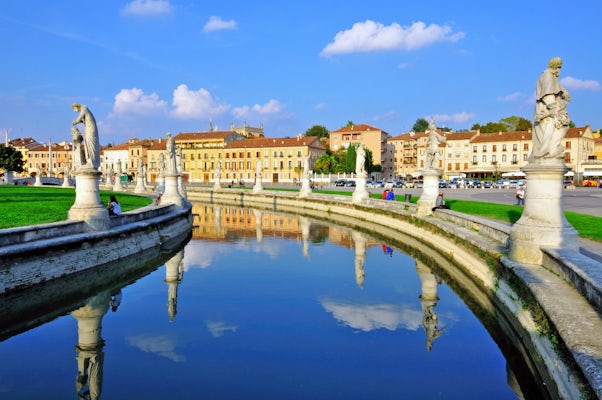 Kurzbeschreibung
Beschreibung
Treffpunkt
Bewertungen
Kundenservice
Padua private tour with Church of the Hermits and Baptistery of the Dome
Verfügbarkeit:
every day of the week
Dauer:
3 hours
Sprachen:
English, Italian, French, Spanish, German
Digitale Tickets
Highlights
Explore the famous Church of the Hermits and jump back to the 13th century
Follow your guide through the Padua's centre and discover its most interesting sites
Visit the fascinating Baptistery of the Dome and see the frescoes of Giusto de' Menabuoi
Beschreibung
Book this private 2.5-hour tour to discover the best part of Padua: the famous Church of the Hermits (Chiesa degli Eremitani, in Italian), the main sites of Padua's old town and the Baptistery of the Dome, with Giusto de' Menabuoi's fascinating frescoes.
Admire the artworks of Guariento and Mantegna inside the Church of the Hermits, then follow your guide through the beautiful historic centre of Padua and listen to their commentary on the most important monuments, buildings and elegant squares in the city.
End your tour at the Baptistery of the Dome, a real gem in Padua. Dedicated to Saint John the Baptist, its construction started in the twelfth century and was consecrated by the Patriarch of Grado in 1281. The Baptistery is famous for having a large and very important fresco cycle from the last quarter of the fourteenth century inside: enter the building and discover the fascinating artworks of Giusto de' Menabuoi!
Inklusive
private tour
expert tour guide
Nicht inbegriffen
entrance fees (the Church of the Hermits is free to visit, you'll only need to buy a ticket to enter the Baptistery of the Dome, of about €3)
Kartenansicht
Prato della Valle, Padova
Treffpunkt:
Meet your guide next to the big fountain in the centre of the square.
Wichtige Informationen
please remember to wear appropriate clothing in the church (if it's very hot, bring along something to cover up your shoulders and legs)
Uhrzeiten
every day at 10am, 11am, 4pm and 5pm
Buchungsgebühr
Es fallen keine zusätzlichen Gebühren im Falle einer Buchung an.
Dies könnte Ihnen ebenfalls gefallen