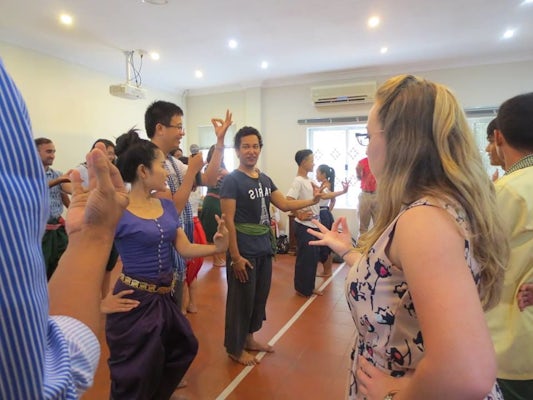 Aperçu
Ce qui vous attend
Lieu de rendez-vous
Avis
Poser une question
Phnom Penh Music & Dance Tour: Traditional Cambodian Dance & Opera
Durée:
Flexible
Billet imprimé obligatoire
Points forts
Discover Cambodia's artistic heritage through music and dance classes while supporting the arts community of Phnom Penh..Let expert dance instructors teach you the moves and history of Phnom Penh's traditional folk dances..Learn about the music and culture of Yike opera, a unique style of Cambodian storytelling opera.
Ce qui vous attend
Cambodian Living Arts provides visitors with immersive experiences related to art and culture! Choose from one of the activities below and delve into an educational experience.Dance Class: This dance class will teach you the history of the classical and folk dances of Phnom Penh. Learn the traditional moves of the dances and watch the artists entertain you. The workshop is interactive and the dancers will make you feel comfortable and confident! Your experience will take place at either Cambodian Living Arts or the National Museum.Yike Opera Class:Yike is a distinct style of classical Cambodian opera that was extremely popular before the Khmer Rouge years of the 1970s. It can be thought of as a form of storytelling with dance and musical accompaniment. In this workshop, discover the movements, instruments, and history of this art form that has long been a part of village celebrations and important events. After the workshop, you will have the unique opportunity to travel to the countryside to have dinner with the founder of Cambodian Living Arts! You will learn how the organization started and the various experiences of the founder. While you enjoy dinner, artists will entertain you with traditional Cambodian music.
Frais de service
Bonne nouvelle! Aucun frais supplémentaire n'est appliqué à cette réservation.
Ceci pourrait également vous plaire
Désolé, il n'y a plus de place