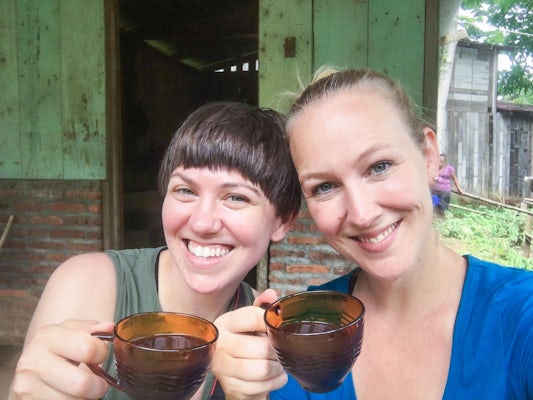 Kurzbeschreibung
Beschreibung
Treffpunkt
Bewertungen
Kundenservice
Matagalpa Tour: Communities of Responsibly Grown Coffee
Dauer:
Flexibel
Nur ausgedruckte Tickets
Highlights
Explore what goes on behind an ethically produced cup of coffee and support local livelihoods and cooperatives..Customize your tour to your interests, from mountain hiking to bird-watching, and see the production process firsthand..Walk in the footsteps of campesinos amongst coffee plantations and enjoy traditional Nicaraguan cuisine prepared by locals.
Beschreibung
Delve into the world of ethically-produced coffee and cooperative living in the lush green mountains of Northern Nicaragua. Your stay with us begins with a visit to the UCA office in San Ramón for coffee and an introduction to the organization. Learn about small and medium producers in the coffee industry, who are making your favorite beans in a responsible manner.Head to the La Reina community to witness the coffee production process yourself. See the importance of comercio justo (just commerce) firsthand. Walk in the footsteps of a campesino, as a local community guide takes you through the steps of depulping and drying the coffee. Spend the next few days immersing yourself in life on a coffee farm: explore the plantations, hike nearby mountains, observe bird species and other wildlife, and connect with the people who proudly produce your favorite morning cup of coffee! If you are lucky enough to visit during the right time of year, you will have the opportunity to help with the coffee harvest! During your stay, you will learn the history of the community you're in, and enjoy and learn the recipes of traditional Nicaraguan cuisine as cooked by locals.Your stay will wrap up back in San Ramón, where you will meet with a group of female artisans and take a trip to the Plaza de Identidad Historica. Finish off your visit with lunch at Cafeteria Monte Grande, a business initiative of 43 women cooperative members from La Reina and El Roblar.
Buchungsgebühr
Es fallen keine zusätzlichen Gebühren im Falle einer Buchung an.
Dies könnte Ihnen ebenfalls gefallen