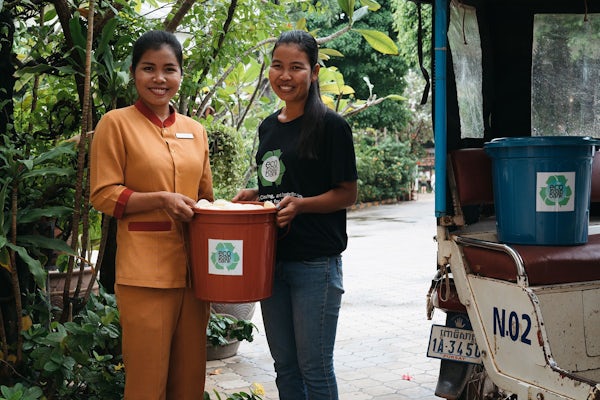 Aperçu
Ce qui vous attend
Lieu de rendez-vous
Avis
Poser une question
Siem Reap Eco Tour: Learn to Recycle Soap & Save Lives
Durée:
Flexible
Billet imprimé obligatoire
Points forts
Explore Siem Reap's soap recycling facilities and help support hygiene education, waste reduction and female employment in Cambodia..Discover the many ways in which a simple bar of soap can be a lifesaving resource while interacting with local Cambodians..Visit Cambodia's largest soap-recycling initiative and make your own recycled soap!
Ce qui vous attend
Participate in the initiative to reduce waste, improve hygiene, and increase female employment in Cambodia! Visitors will spend 1-2 hours on an interactive and educational tour of Eco-Soap Bank's soap recycling facilities. Watch a short documentary on the organization's mission and learn how soap-recycling can reduce waste, improve hygiene and health, and even create jobs for women in Cambodia. Then, witness a live demonstration as staffers transform waste into a lifesaving resource - soap! Learn the basics of soap-recycling, and discover how you can make a difference in the life of the average Cambodian.Interact with Eco-Soap Bank staff in an optional part of the tour during which you can put your new knowledge to the test and try your hand at soap recycling! Wrap your recycled soap in up-cycled or organic products and take it home as a souvenir at the end of the tour, or donate it to a Cambodian child in need.
Frais de service
Bonne nouvelle! Aucun frais supplémentaire n'est appliqué à cette réservation.
Ceci pourrait également vous plaire
Désolé, il n'y a plus de place