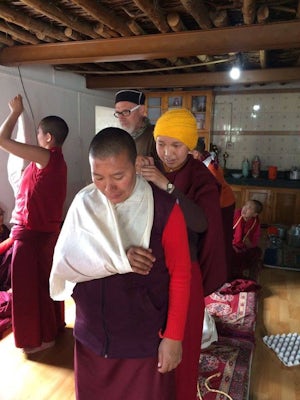 Aperçu
Ce qui vous attend
Lieu de rendez-vous
Avis
Poser une question
Himachal Pradesh Discovery Tour: Tibetan Buddhism in India
Durée:
Flexible
Billet imprimé obligatoire
Points forts
Experience a day in a nunnery high up in the Himalayas and support local livelihoods and development projects..Immerse yourself in the traditions of Tibetan Buddhism as you learn Bhotti, the Tibetan dialect, and mantras with the nuns..Witness how the nuns sustainably generate solar power and cook their garden-grown vegetables for dinner together.
Ce qui vous attend
Do you want to truly venture off the beaten path and see what life is like in a nunnery? Do you want to begin exploring or delve deeper into Tibetan Buddhism? Spend a day in a nunnery formed inside a cave in Spiti Valley, during this once-in-a-lifetime experience that combines culture, Buddhism, and sustainability. Immerse yourself in peace, tranquility, and the traditions of Northern India and Tibetan Buddhism, high up in the Himalayas. Take an in-depth tour of the nunnery, and learn about how it was formed in the cave, where 12 nuns have lived for over 10 years. Participate in the prayers and talks with the nuns. Learn Buddhist mantras and their meanings. Witness and understand how the nuns grow vegetables, heat water, and generate their own electricity using solar power. Learn to write your name and a mantra in Bhotti, the Tibetan dialect. Walk in the landscape near the nunnery or visit the nearby village. Join the nuns as they prepare dinner, learning traditional recipes, and enjoy a dinner with the nuns. Get a true insight into a nunnery, and the culture and life of the Spiti Valley, with this unique immersion into a day in the life of a Tibetan Buddhist nun!
Frais de service
Bonne nouvelle! Aucun frais supplémentaire n'est appliqué à cette réservation.
Ceci pourrait également vous plaire