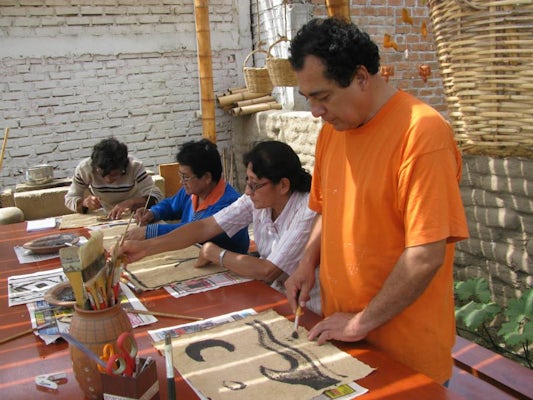 Info rapide
Cosa aspettarsi
Punto d'incontro
Recensioni
Hai domande?
Lambayeque Art Workshop: Discover the Tradition of Clay-Painting
Durata:
Flessibile
È necessario stampare il voucher
Cosa farai
Get a unique, hands-on experience dyeing traditional Peruvian tapestry using clay-paints and help a community workshop preserve the local heritage..Paint your very own cotton fabric using ancient techniques and clay-paints..Try some fresh herbal tea, a local specialty.
Cosa aspettarsi
Spend an afternoon with the most famous clay craftsmen known to mankind in an amazing, once-in-a-lifetime experience!Clay-working has been a cornerstone of Túcume's local art and cultural expression for thousands of years, having developed into a refined technique that has made clay one of the most important local natural resources. Ever since pre-Columbian times, the natives of Túcume have been using clay as a crucial material, using it to build pyramids and craft pottery, including sacred ritual and household vases. However, nothing can compare to the skill required in the unique Túcume tradition of clay-painting, which uses dazzling clay-based paints to dye organic cotton fabrics.Now, the ancient art of clay-painting has finally been demystified. Come and participate in a rare opportunity which includes a local tour of the Julián Bravo Artisan Workshop and a talk that explains natural clay dyeing and painting in detail. Meanwhile, sip on some traditional tea brewed from fresh garden herbs.After two hours, you will have familiarized yourself with the time-honored techniques of clay-painting, taught by renowned masters of the art. You will then paint your very own fabric, which you get to bring home with you as a symbol of a special Peruvian heritage. Just be prepared to get your hands dirty!In addition to the clay-painting workshop, there is also a paper-making workshop and a cloth-binding workshop, for a total of 3 separate workshops that partake in the association.
Commissioni di prenotazione
Buone notizie! Non sono applicate commissioni di servizio a questa prenotazione.
Ti potrebbe piacere anche