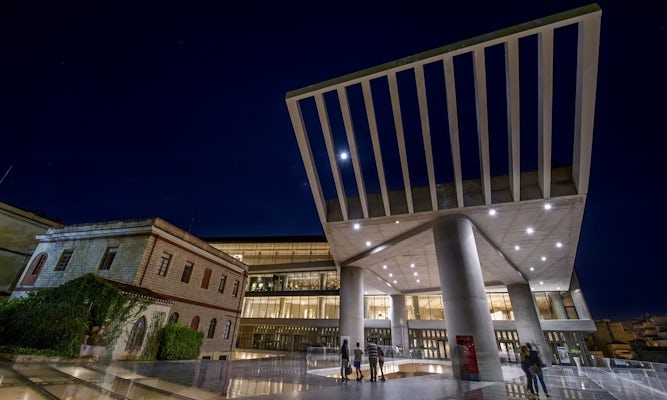 Información básica
Qué te espera
Precio reducido
Lugar de encuentro
Opiniones
¿Tienes preguntas?
Acropolis Museum tour with skip-the-line tickets
Basado en 14 valoraciones
Disponibilidad:
Monday, Wednesday, Friday
Duración:
an hour
Idiomas:
English
Es necesario imprimir el bono / entrada
INSTANT CONFIRMATION
SKIP THE LINE
Ventajas
Votive artifacts and objects of every day life
Statues from the Archaic period
The Parthenon hall
The remains of the ancient Athenian city
An amazing Acropolis view
Qué te espera
The Acropolis Museum in Athens, Greece, is one of the city's most important museums. The tour you can book on this page is a 1 hour 30 min tour in which you'll have the chance to see the surviving treasures of the Acropolis finally reunited under the roof of the New Acropolis Museum.
THE TOUR
Your tour will be an in-depth visit to the museum with a licensed tour guide. Together you will browse the religious artifacts of everyday life from ancient Greece, admire the statues from the archaic period, the Caryatids, and of course check out the Parthenon hall with the Metopes, the pediments and the frieze. Another major exhibit in the Museum of the Acropolis is the one that holds remains of the ancient Athenian temples that came to light during the on-going archaeological excavations under the ground floor of the museum.
After the guided tour you will be free to stay and continue exploring the Acropolis museum at your leisure.
TOUR HIGHLIGHTS
Votive artifacts and objects of everyday life: In the gallery from the slopes of the Acropolis with archeological findings from the Acropolis hill.
Statues from the Archaic period: Found in the Archaic Gallery where you can view the ancient Greek statues from every angle, in a hall full of natural light.
The Parthenon hall: With a reconstruction of the Parthenon frieze and real marble inscriptions witnessing to the history, construction and use of the Parthenon.
The remains of the ancient Athenian city: Remnants of temples, the Propylaia city entrance and sculptures from the parapets of Athena Nike and the Erechteion.
An amazing Acropolis view
Incluye
Licensed tour guide
Museum entrance fees
No incluye
Food and drinks
Optional gratuities
Precio reducido
Children 3 years old and under: no charge
Dónde
The Acropolis Museum information desk, inside the museum (beside the ticket office) at 11.45am
You should wait there for your guide
¿Cuándo?
Monday, Wednesday, Friday: 11.45am
End time: 1.15pm
Organizado por
Key Tours Greece
Cargo por reserva
¡Buenas noticias! Esta reserva no tiene ningún cargo adicional.
La opinión de otros usuarios sobre esta experiencia
Basado en 14 valoraciones
También puede interesarte