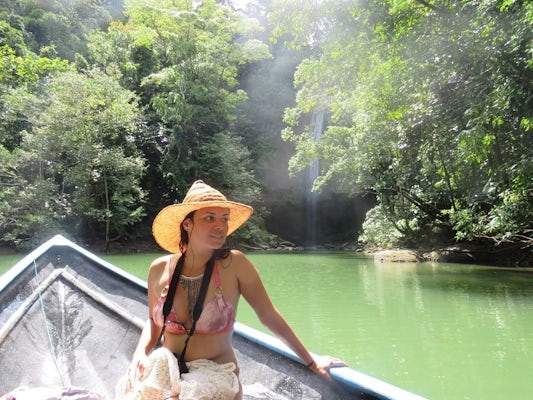 Información básica
Qué te espera
Lugar de encuentro
Opiniones
¿Tienes preguntas?
Buenaventura Eco Tour: Swim Under a Colombian Waterfall
Duración:
Flexible
Es necesario imprimir el bono / entrada
Ventajas
Immerse yourself in the cascades' natural fresh and salt water pools while supporting environmental protection and conservation in the Isla La Plata community..Sail to La Sierpe waterfalls and experience one of Colombia's most beautiful natural treasures..Learn about the cultural traditions of the Bahía Málaga region as well as the many plants and animals that inhabit this global hotspot for biodiversity and nature conservation.
Qué te espera
Travel by motorboat from the dock of La Plata to the site of La Sierpe waterfalls, two incredible cascades measuring 60 meters (200 ft) tall! Let your guide teach you about the legendary history of these beautiful waterfalls and the rich cultural tradition that surrounds them. Sacred to natives of this region, the waterfalls received the name "Sierpe," meaning snake, because they are believed to have been created by magical snakes sent by Mother Earth to create life at the bottom of the ocean. The waterfalls are said to carry water that will bring love and fertility to those who touch it. The people of Bahía Málaga bathe in these falls as a symbolic act of maturity as they leave their childhood behind and enter adulthood. In these waters, they unlock the vital secrets to fishing, gathering Piangua clams, and coexisting with the forest. Go for a swim in the stunning natural pools of fresh and salt water formed at the base of the falls and experience this energy for yourself! Journey down the path of La Sierpe and learn about the wealth of flora and fauna around you. After, enjoy a delicious meal at a local restaurant and taste the traditions of Colombia's Pacific coast before making your way back to the dock of La Plata.
Cargo por reserva
¡Buenas noticias! Esta reserva no tiene ningún cargo adicional.
También puede interesarte
Lo siento, se agotaron las entradas