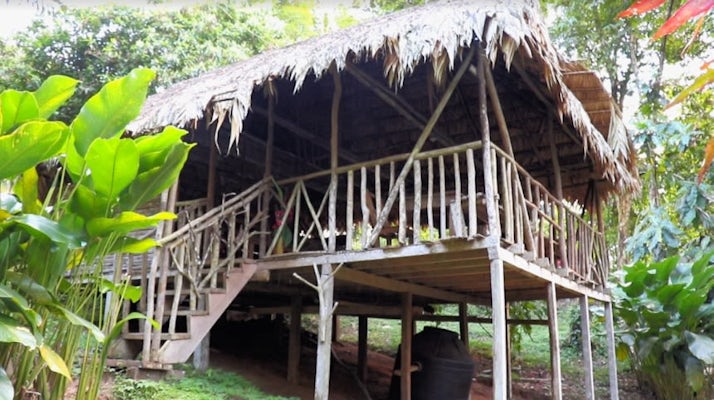 Informação rápida
O que esperar
Ponto de encontro
Reviews
Faça uma pergunta
Panama Agriculture Tour: Discover Nature and Visit Local Farms
duração:
Flexível
Somente bilhete impresso
Faça isso porque
Experience first-hand the farming and agricultural products of El Guabo Yorkín while helping improve the environment and quality of life for the community..Hike to a majestic waterfall and relax in the water..Make your own chocolate drink on a traditional cocoa plantation.
O que esperar
On this tour, participants will visit the local community of El Guabo Yorkín, where there are many great opportunities to experience traditional organic food, take nature hikes to appreciate the unique biodiversity of the community, and visit beautiful waterfalls, natural attractions and farming plantations on an overnight adventure! You can choose two out of four tours that are best suited to your tastes.Tour 1: Discover nature on this exploratory walk through the forest. Check out the indigenous animals and study the unique plant life of Panama. Lasting about 3 hours, this tour is of medium-high difficulty and may not be suitable for the elderly, pregnant, or those with heart issues. Tour 2: Get a taste for traditional cocoa farming with this tour of the local cocoa farm, learning all about its history and the incredible planting process. Visitors get the chance to even make their own chocolate beverage! This tour lasts about 3 hours with minimal walking (1 km) and is suitable for everyone.Tour 3: Travel to a beautiful waterfall and tour the farms of the community where you can explore nature and see the abundant wildlife. Once you arrive at the waterfall, you will have time for a snack of either seasonal fruits or cake and can relax and swim in the water. This tour lasts about 3 hours and the trek is 2 km of medium difficulty. Tour 4: Visit a variety of organic farms, ranging from cocoa cultivation to banana plantations. Take the opportunity to meet the villagers on this 2 hour tour of the plantations and learn about their local products and culture. This tour covers 1 km and is suitable for everyone. Brief itinerary of your overnight stay: Day 1:9:00: Reception in Bambú, from there you will travel by boat via the Yorkín River for about an hour and a half. 11:00: Arrive at Alakölpa center12:00: Lunch13: 00- 16:00: Tour 1 (First tour of your choosing)18:00: DinnerDay 2:07:00: Breakfast8:00: Tour 2 (Second tour of your choosing)11:00: Return by boat to Bambú
Taxa de reserva
Boas notícias! Nenhuma taxa extra é aplicada a esta reserva.