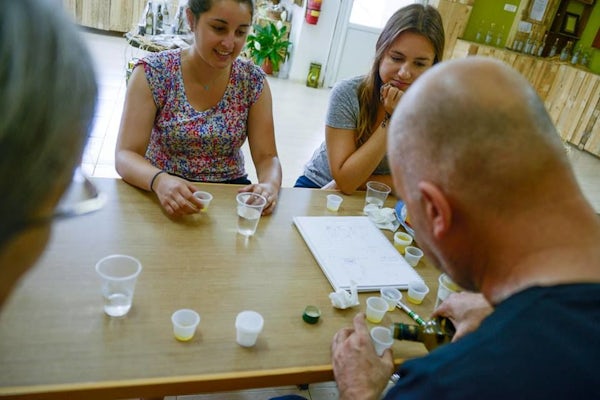 Info rapide
Cosa aspettarsi
Punto d'incontro
Recensioni
Hai domande?
Israel Food Tour: Discover Local Olive Oil in the Galilee
Durata:
Flessibile
È necessario stampare il voucher
Cosa farai
Learn the processes behind harvesting olive oil and basket-weaving while helping sustain a culturally diverse community..Admire the merger between modern and traditional techniques and tools for harvesting olive oil..Join a unique group of economically empowered Arab and Jewish women for a basket weaving workshop.
Cosa aspettarsi
By combining 'old' practices with modern techniques and a vision of economic enterprise, Arabs and Jews that work in Sindyanna of Galilee produce the best tasting olive oils and other first class products. The fruits of this joint effort are often much more than just the wonderful extra virgin olive oil; rather, they are a deep passion for the environment, and invaluable, trust-building cooperation between local Arabs and Jews. The Sindyanna visiting center stretches over a 200m area which is modernly designed and equipped for the various activities offered. These include chef-instructed cooking courses, professional olive oil tasting panels and courses, multicultural basket weaving workshops, classes educating Arab farmers and consumers for general awareness of the different olive cultivars and modern techniques and tools in the olive oil industry. All activities and classes are open for individuals, families and large groups.Start your tour with a professional lecture which introduces the local olive oil industry and the uses of olive oil in general. Recent years have seen significant scientific and technological advancements in the olive oil industry, especially with the entry of new cultivars - these will be discussed in the context of local oil production process. Next, explore production facilities and watch a demonstration of the process (included depending on the season). Get acquainted with professional basket-making in a local basketry workshop. This workshop was established over 5 years ago for Arab women and has since become a focal meeting point for Arab and Jewish women. The women learn basket weaving together and create art. It is a unique, unprecedented opportunity to get to know the neighboring culture and develop genuine friendships through baskets of cooperation. Basket weaving classes are available in the workshop for groups and individuals. The rooftop space, with views of the green fields in the Cana valley from one side and the city of Cana and its neighboring villages on the other side, is an ideal location for social gatherings, especially at sunset. Finally, enjoy the Fair Trade store, which sells many of Sindyanna's original products. Fair trade products include various organic extra virgin olive oils, za'atar spice mixes, carob syrup, almonds, honey, olive oil based soaps, and traditional handicrafts and embroidery. Alongside Sindyanna's products, the store offers local goods from the region such as traditional foods, spices, cosmetics, wine, chocolates and extraordinary craftsmanship by local artists.
Commissioni di prenotazione
Buone notizie! Non sono applicate commissioni di servizio a questa prenotazione.
Ti potrebbe piacere anche