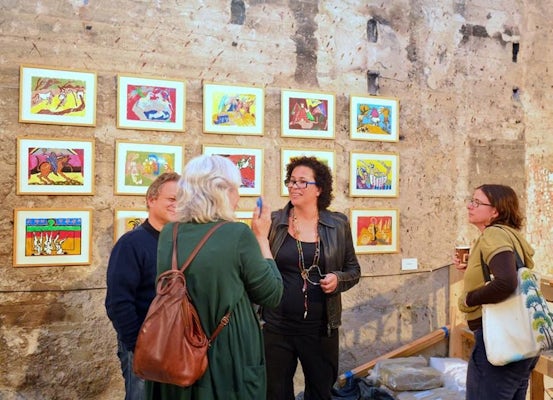 Kurzbeschreibung
Beschreibung
Treffpunkt
Bewertungen
Kundenservice
Haifa City Tour: A History of Tolerance and Diverse Traditions
Dauer:
Flexibel
Nur ausgedruckte Tickets
Highlights
Explore one of Israel's most diverse cities and support efforts to combat intolerance through dialogue and education..Visit the famous Museum Without Walls in the Wadi Nisas neighborhood..Take a tour through beautiful gardens and old mosques and synagogues.
Beschreibung
The city of Haifa is a fascinating cultural mosaic made up of Jews and Arabs, veterans and new comers, and Eastern and Western influences. Visit the Center at Beit HaGefen and explore Haifa's origins as a tolerant cosmopolitan city with diverse cultural treasures and religious traditions. Visit the Museum Without Walls in the Wadi Nisnas neighborhood, a public open-air museum meant to signify unity in a multicultural city and embody the concept of open dialogue between Jewish and Arab culture. Visit the Baha'i Gardens, Stella Maris Church, The German Colony, and the Ahmadi (Ahmadiyya) mosque.
Buchungsgebühr
Es fallen keine zusätzlichen Gebühren im Falle einer Buchung an.
Dies könnte Ihnen ebenfalls gefallen