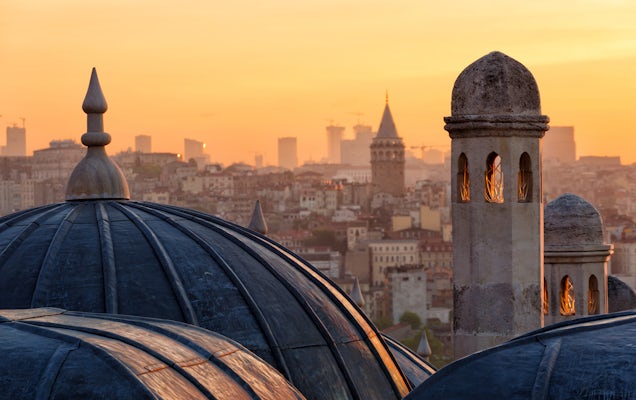 Информация
Программа
Льготная цена
Место встречи
Отзывы
Задать вопрос
Istanbul Conquered full day city tour
Доступность:
Tuesday, Thursday, Saturday
Продолжительность:
9 hours
Язык:
English
Билет для смартфона
INSTANT CONFIRMATION
Выбор покупателей
Visit and marvel at the mesmerizing ancient site of Hagia Sophia
Take in the majestic Blue Mosque and learn about the delicate, intricate work that makes up this world-famous site
Listen to colorful stories of sultans at Topkapi Palace and explore all the site's ancient treasures
Enjoy a tasty Turkish lunch with locals in a hidden café
Программа
Can you "conquer" Istanbul in just one day? We're certainly going to try! Take a journey from Byzantium to Constantinople to Sultan Mehmet Fatih's city of Islam on this historical tour that stops at some of the most iconic sites in Turkey while also showing you the city's exciting present day atmosphere.
Start your Istanbul tour with a dose of awe at Justinian the Great's Hagia Sophia. This masterpiece of Byzantine architecture stands tall and proud in downtown Istanbul, holding within its walls more than 1,500 years of Turkish history. This mind-bogglingly beautiful site is also somewhat of a chameleon — it has lived its long life as a church, a mosque, and now as a museum. Then you'll head just across the street to the jewel in the Istanbul crown. Sultan Ahmet I's Blue Mosque is one of the most striking sights in Istanbul, with its iconic blue-tiled walls, 260 windows, and six minarets.
Next, your Istanbul city tour will take you to the ancient Hippodrome. Today, this charming promenade is a popular meeting point for Istanbulites, but it is also an integral part of Turkish history. Chariot races once took place along this strip, which was also home to the notorious Nika riots — a dramatic political protest in 532AD that led to the massacre of tens of thousands of people.
Need a break? Step back to the present and join the locals as we lunch in a hidden café. You'll enjoy friendly conversation with members of the community and learn about daily life in Istanbul. Once you're filled with Turkish cuisine, Topkapi Palace awaits. This opulent complex overlooking the Bosphorus is a true Istanbul treasure, with many colorful stories about the rich sultans who lived there.
Lastly, you'll seek out treasures of a different kind in Istanbul's famed Grand Bazaar, which offers up 3,000 shops to explore along 61 streets. Meet a few of the local characters, perfect your haggling skills, have a true Turkish coffee and shop till you drop.
Входит в стоимость
Local English-speaking guide
Entry fees
Lunch
Tea and coffee
Не входит в стоимость
Extra drinks
Tips or gratuities for your local guide
Льготная цена
Сhildren 5 years of age and under: free
Children 6 to 11 years of age: reduced
Где
Pudding Shop Lale Restaurant Divanyolu Caddesi No. 6, 34400, Sultanahmet
Место встречи:
The restaurant is located on the street where the tram lines run through Sultanahmet, approximately a 3-minute walk from the Sultanahmet tram stop.
Важно помнить
Note that the Grand Bazaar is closed on Sundays, so if you choose a Sunday departure, you'll explore the nearby vibrant Spice Market, filled with delectable and colorful Turkish spices, treats, coffees, and teas.
Please be aware that the standard of dress through out Turkey is conservative. To respect this and for your own comfort, please wear modest clothing. This means clothing that covers your shoulders and knees for both women and men.
Following recent safety incidents, we recommend that you check your government's advice for their latest information on traveling in Turkey before your departure and ensure that your travel insurance covers you for all areas of your itinerary. We have links to prominent government travel advisories and regular updates on issues affecting this trip on our Travel Alerts page.
Когда
Tuesdays, Thursdays and Saturdays at 8.30am
Туроператор
Urban Adventures
сервисный сбор
Хорошие новости! К этому бронированию не добавляется никакая экстра-стоимость.