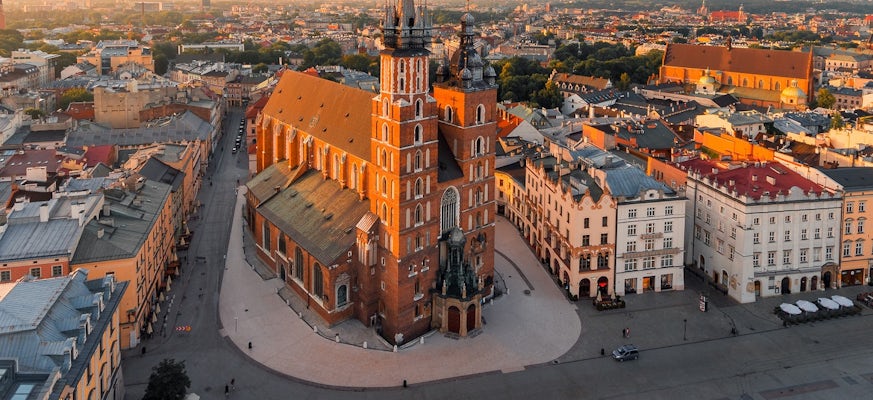 Информация
Программа
Место встречи
Отзывы
Задать вопрос
Krakow St. Mary's Basilica entrance ticket
Продолжительность:
Разное
Язык:
English
Билет для смартфона
Выбор покупателей
Visit the symbol of Krakow, the biggest and highest church in the Old Town
Marvel at the pearl of gothic architecture
See the famous Veit Stoss altar
Программа
After the Wawel Cathedral, St. Mary's Basilica is the most important church in Krakow. The characteristic towers of the basilica highlight in the sky line of the city. The Basilica also houses the famous Veit Stoss Altar, which is considered one of the greatest late Gothic European masterpieces.
Входит в стоимость
Entrance to the Basilica
Где
The St. Mary's Basilica is located at Plac Mariacki 1, 33-332 Krakow, Poland
Место встречи:
Before going to the Basilica, please exchange your voucher against a voucher from DiscoverCracow at one of the following DiscoverCracow Tourist Points: 8 Szczepanski Square or 13 Wolnica Square. With that voucher you will be able to obtain your entrance tickets at the Basilica (don't worry, it's quick)
Когда
Monday - Saturday: 11:30am - 6:00pm
Sunday and Holidays: 2:00pm - 6:00pm
Closed from September 1st till October 31st 2018
Туроператор
Discover Cracow
сервисный сбор
Хорошие новости! К этому бронированию не добавляется никакая экстра-стоимость.