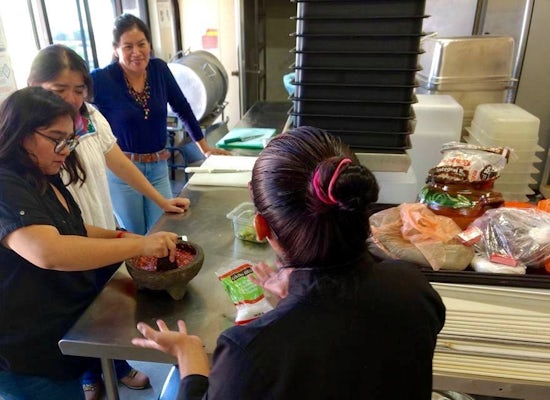 Aperçu
Ce qui vous attend
Lieu de rendez-vous
Avis
Poser une question
Mexican Cooking Workshop: Discover Local Gastronomy and Culture
Durée:
Flexible
Billet imprimé obligatoire
Points forts
Explore Mexican cuisine and culture in a comprehensive cooking workshop while supporting the empowerment of young people as agents of social change..Create an authentic menu consisting of an appetizer, main course, and dessert..Get to know the local region and its people by spending time in intercultural exchange in the community center, Ciudad Retoño.
Ce qui vous attend
Explore the unique elements of Mexican gastronomy and culture! Take a journey through history while learning about the aromas, flavors, and textures of this warm country. Meet renowned Chef Angel Palacios, who will be your culinary guide and workshop instructor. Then, dive into a hands-on Mexican gastronomy workshop and bring to life an authentic menu that includes an appetizer, main course, and dessert. Finally, enjoy the product of your hard work!The workshop will last approximately three hours. At the conclusion of the workshop, enjoy a tour of the facilities of Ciudad Retoño, a community space for Reyes La Paz where the cooking class takes place. Then, get to know the region and its people better by taking part in an intercultural conversation and exchange with Cauce Ciudadano.
Frais de service
Bonne nouvelle! Aucun frais supplémentaire n'est appliqué à cette réservation.
Ceci pourrait également vous plaire
Désolé, il n'y a plus de place