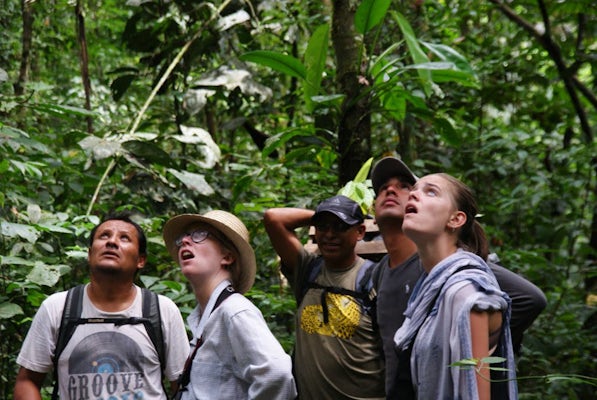 Kurzbeschreibung
Beschreibung
Treffpunkt
Bewertungen
Kundenservice
Peru Adventure Tour: Hike and Bike into the Amazon
Dauer:
Flexibel
Nur ausgedruckte Tickets
Highlights
Mountain bike through the Amazon rainforest and support the conservation of one of the world's most biologically diverse ecosystems..Canoe down the Tambopata River and take a dip in the Cascades del Gato..Journey through the jungle to the Colla de Guacamayos, the macaw clay lick observation point, and witness a spectacular show of sound and color.
Beschreibung
Day 1After a scenic drive along the Interoceanic Highway, you will arrive just in time for lunch at a small village. Meet and share a meal with members of the local community before hopping on your mountain bike for a ride through the Peruvian jungle! Travel down dirt roads to the Tambopata Trek reserve. Be sure to keep an eye out for the many animals that call the Amazon home. In the evening, you'll canoe down the Tambopata River in search of caimans and capybaras. Spend the first night in a homestay in Baltimore, where you'll have the chance to meet Eduardo's family, taste the local cuisine, and rest up for Day 2.Day 2Your journey to the Collpa el Gato, the macaw observation point, begins with a walk into the forest at dawn. Watch swarms of macaws gather at the clay lick and perform an incredible show of sound and color. Explore their farm or go for a swim in a waterfall and truly immerse yourself in the Amazon. After lunch, hike deep into the forest to the refuge where you will spend your second night. Learn to recognize animals around you using sounds, smells, and footprints and coexist with the jungle. Day 3After breakfast, hike through the Amazon rainforest to Esther homestay, the peaceful place where you will spend your third night. Here you will participate in a regional cooking class and learn about traditional Peruvian food and cooking techniques. Even grind your own cocoa using power generated by bicycle!Day 4Finish off your visit to Tambopata Trek by participating in our "One Friend One Tree" program and plant a tree in memory of your time here. Aid us in our effort to preserve and reforest the Peruvian jungle and make an unforgettable, long-lasting impact on the environment.
Buchungsgebühr
Es fallen keine zusätzlichen Gebühren im Falle einer Buchung an.
Dies könnte Ihnen ebenfalls gefallen