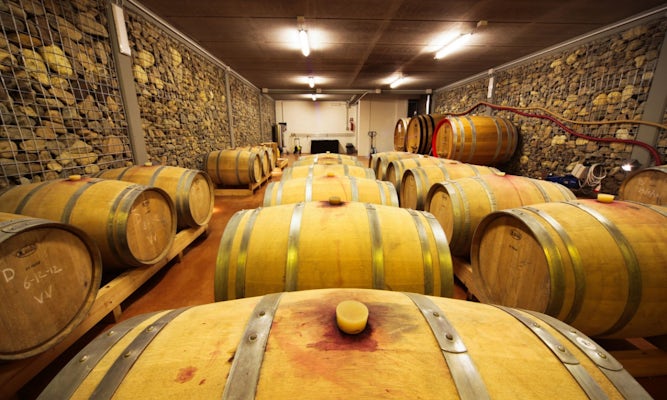 Kurzbeschreibung
Beschreibung
Treffpunkt
Bewertungen
Kundenservice
Off the beaten track wine tour in Monferrato, Piedmont from Milan or Turin
Dauer:
10 hours
Sprachen:
English, Italian, German
Digitale Tickets
Highlights
Discover the wine region of Monferrato, an off the beaten track area of Piedmont
Taste the authentic Piedmontese cuisine
Taste some authoctonous grapes, such as Dolcetto, Albarossa, Brachetto, Caricalasino, Cortese
Try organic, natural wines, made without chemical additives and man's manipulations
Beschreibung
Leave the touristic, beaten track to explore the scenic wine region of Monferrato, in Piedmont.
Meet your guide and driver at 9 AM and jump on your bus. You will travel a little south of River Po, in a landscape made of green, rolling hills. This area is famous for its elegant, excellent wines, such as "Barbera del Monferrato", "Dolcetto di Ovada" and "Brachetto d'Acqui". It's not all about wines, though! Discover the delicious "Agnolotti" (a kind of pocket pasta filled with minced meat and traditionally served as "broth" with wine), "Bagna cauda" (a special sauce made of salted anchovies, garlic and olive oil), "Salame cotto" (boiled salami), Montebore and Robiola di Roccaverano cheeses and many more local delicacies.
You will reach Marenco estate in the village of Strevi at 10.30 AM. The history of the winery dates back to the early 1990s, when Michele and his son Giuseppe founded and later expanded the estate. They gradually acquired the best land in the region and chose the most typical grape varieties to grow. The business is now run by Michela, Patrizia, and Doretta, that show the same passion for the land of their father, Giuseppe. It is "the family dream", that they carry on with enthusiasm and dedication day after day. They personally supervise and control every step of the production process, all the way from grape to bottle. At Marenco estate, you will have a tour of their vineyards: take in the amazing views and learn about the history of the family and wine production of the area. Next is a wine tasting of 5 wines, including Cariasolo, made with Caricalasino, also known as white Barbera, a Piedmont grape that was almost lost to posterity; Strevi Moscato Passito DOC; Brachetto d'Acqui DOCG; and Albarossa, a variety of Piedmontese grape, a cross of Chatus (Nebbiolo Dronfield) and Barbera, discovered in 1938 by Professor Dalmasso of Turin, while he was searching for new varieties able to combine Nebbiolo's elegance and color with the freshness and drinkability of Barbera.
You will then continue your journey to reach Ovada. Lunch will be served at 12.45 PM, in a typical country inn's restaurant. Here you will find heavy hams that seem to protect a small niche with checkered tablecloths. Menu will be made of local dishes with a hint of influence from Liguria, as this is a border land between the two regions. Enjoy the beautiful recipes, the quality ingredients and the friendliness and charm of this place. Do not miss the Agnolotti pasta cooked with wine!
Continue your tour and reach the beautiful Rocco di Carpeneto winery. Let Lidia, winemaker, welcome you into this organic boutique winery. Lidia will lead you through the estate with her husband Paolo: learn about viticulture and natural wine production, visit the tiny, modern cellar and enjoy a tasting of 3 wonderful wines. After 20 years of living and working in Milan, Lidia and Paolo moved to the country and decided to produce natural wines. Lidia is very thorough when it comes to analyzing their wines, vines and soil: wines undergo spontaneous fermentation and they only contain the slightest amount of sulfites. Lidia and Paolo own about 5 hectares of vineyards and the majority grows Piedmont-native grapes (dolcetto, barbera, cortese, nebbiolo, albarossa).
After the visit to the winery you be transferred back to Milan or Turin, where you will arrive by 6.45 PM.
Inklusive
Private, certified driver
2 private vineyard and cellar visits
Private wine tastings in 2 wineries (7 different wines)
5-course lunch with water, coffe & wine (1 bottle of wine for 2 guests, or equivalent)
Local taxes
Bottled water available on the bus
Assistance phone number available throughout your tour
Kartenansicht
Via Guglielmo Marconi, 1, 20122 Milano MI, Italy
Treffpunkt:
Please provide a pick-up address at the time of booking
Wichtige Informationen
As this tour involves alcohol consumption, it is not recommended for pregnant women and children.
Animals are not permitted in this tour.
It is recommended to wear comfortable shoes and clothes and to bring a light jacket o a sweater, as the the cellar temperature might be cool.
Customers are invited to inform the tour organizer about any food allergies or dislike. Any food allergy or dislike not previously indicated could result in additional costs for the customer.
The tour will not take place if it does not reach the minimum number of participants. If this happens you will be offered an alternate date for your booking or a total refund.
This tour is also available as a private, personalized tour with your choice of date, stops and wine cellars. If you are a group of more than 6 people, the price may be lower. Please contact us for further information about rates and availability.
Buchungsgebühr
Es fallen keine zusätzlichen Gebühren im Falle einer Buchung an.
Dies könnte Ihnen ebenfalls gefallen