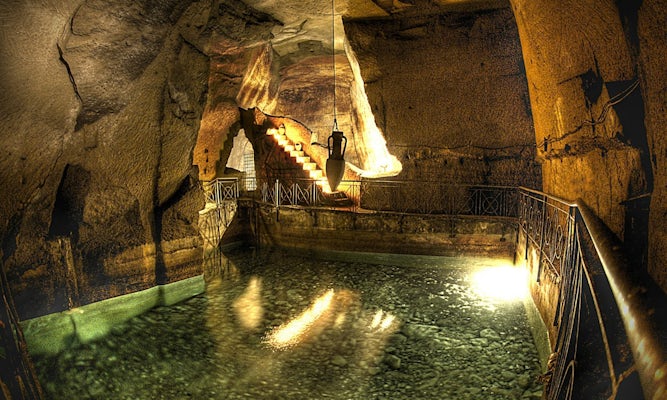 Informação rápida
O que esperar
Preço reduzido
Ponto de encontro
Reviews
Faça uma pergunta
Guided tour of underground Naples
Disponibilidade:
Monday-Friday
duração:
2 hours
Idiomas:
English, Italian, Spanish
Somente bilhete impresso
Faça isso porque
Embark on the most fascinating tour of underground Naples
Retrace 2,400 years of history at 40 meters deep
Discover a unique heritage rich in history
O que esperar
Underground Naples is the city's most famous and fascinating route. Guides will take you on a journey across 2400 years of history, from the ancient Greeks to modern times, revealing the essence of Naples from an archaeological, historical, anthropological, and geological point of view.
The tour includes a deep look at the Graeco-Roman Aqueduct. After descending 136 comfortable steps, you'll arrive at a depth of approx. 40 meters, where you'll visit some of the tufaceous cavities dug during the Greek era (4th century BCE), which were used as the city's water reservoirs for about 23 centuries. These are large and illuminated areas, except for a short stretch - which is optional but very interesting because it's illuminated by candlelight; moreover, the walking surface is smooth and straight. The tour has a duration of about 1 hour. You'll also visit WWII anti-raid shelters, the War Museum and Orti Ipogei, a new Underground Naples project among the various educational and scientific activities offered to its visitors.

Deep in the darkness, 35 meters deep to be exact, of underground Naples, there's life. The initiative was created just before Expo Milano 2015, that was dedicated to food, in order to establish a vegetable garden in the bowels of the earth, a seemingly hostile environment, but far from acid rain, fine particulate pollutants, smog, and harmful microorganisms. It actually protects the cultivation of classic vegetable garden plants. Underground Naples has therefore launched a new botanical experimentation phase for the subsoil. A subsoil which is open not only to Italian and foreign visitors - both young and not so young - but also to scholars and botanical researchers who use the Orti Ipogei for scientific research.
You'll also visit:
Roman Theater Ruins - You'll enter a typical Neapolitan house, commonly known as "basso," because it's located on the city's street level. Once there, you just have to move a bed and open a trapdoor to access the ruins of Neapolis Theater and the places where Nero used to have his private dressing rooms every time he staged his performances in Naples. The tour lasts about 20 minutes.
Summa Cavea - The tour has been recently expanded with a new discovery. In fact, an ancient carpentry gives access to another fragment of the Theater, where you can visit a permanent exhibition of Scarabattoli (a glass stand displaying 17th century sacred images and objects) that host folk nativity scenes. This is the Summa Cavea (intrados) of the Graeco-Roman theater located in Vico Cinquesanti, behind Piazza San Gaetano, Neapolis' ancient market square. A new discovery has been made inside the new section of the Roman theater. There were some small channels running beneath the floor, which were completely clogged by sawdust. The cleaning process revealed Bourbon-era sewer drains made with "riggiole" (tiles) with blue drawings. Those channels are protected by grilles and are visible.

O que está incluído
Entrance ticket
Guided tour in the language chosen
Temporary art exhibitions and itineraries (if available)
Preço reduzido
Reduced: students, teachers and cultural associations
Children's ticket: valid for children from 5 to 10 years old
Free: children from 0 to 4 years old, teachers (one for every 10 pupils)
Onde
Piazza San Gaetano, 68, 80138 Napoli NA
Ponto de encontro:
The entrance is next to the Basilica of San Paolo Maggiore and it's signaled by white and blue flags, showing the words "Napoli Sotterranea"
O que lembrar
This is not a skip-the-line ticket. You might have to wait in line during busy times, sometimes waiting past your visiting time slot. Tickets purchased on Musement guarantee you will be allowed in, no matter what.
It won't be possible to carry out the visit autonomously, there will always be a guide to accompany you during your visit.
You can also follow the visit in other languages, thanks to the free multilingual app that you can download at the beginning of your visit. In addition, a brochure in several languages is always delivered in order to follow the visit better.
It's recommended to wear comfortable shoes and a sweatshirt during the warm periods.
The path is efficiently illuminated, the access ladder is equipped with a handrail and the steps are very low. The only narrow and partially illuminated path is optional.
Children who attend primary school and junior high school should bring a small flashlight.
The path is authorized and the tour obtained State concession, therefore guaranteeing high safety standards.
The path isn't accessible by wheelchair as there are 121 steps to climb uphill and downhill. There are no elevators or escalators. You can leave strollers at the main entrance and take it back at the exit.
You can take pictures along the way.
The space of Napoli Sotterranea constantly hosts works and paths of contemporary art (always included in the ticket). The works are hosted by Co.RE.Gallery.
Naples Underground, like all the privately run museums and archaeological pathways, does not adhere to the ministerial initiative #DomenicalMuseo, which provides free admission to museums and archaeological sites on the first Sunday of every month.
Quando
Tours in Italian: 10.00am; 6.00pm
Tours in English: 10.00am; 6.00pm
Tours in Spanish: 12.00pm and 2.00pm
The 9.00pm tour on Thursdays requires a reservation and a minimum of 10 participants
Provedor
Napoli Sotterranea
Taxa de reserva
Boas notícias! Nenhuma taxa extra é aplicada a esta reserva.
O que as pessoas dizem sobre essa experiência