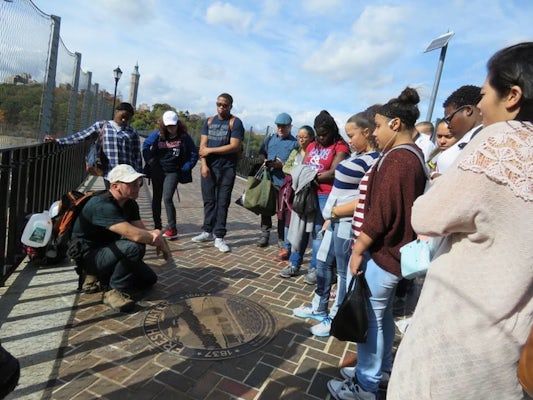 Snelle info
Wat te verwachten
Verzamelpunt
Recensies
Een vraag stellen
NYC Walking Tour: Paint the Path of an Underground Creek
Duur:
Flexibel
Alleen geprinte tickets
Doe dit omdat
View your city streets, and what's below them, with a whole new perspective while supporting NYC H2O's water education efforts..Get your hands dirty with chalk paint while tracing the course of an underground creek..Unearth your detective skills by tracing a stream's buried path.
Wat kan je verwachten
Though our cities may appear as solid concrete and brick and glass, under the thin veneer of streets and sidewalks, flows and seeps an entire system of water that has been coursing this landscape for thousands of years. From the European colonists to the present day city engineers, there has been a strong imperative to put these wild waters into pipes and under the ground. But water cannot always be stopped by brick culverts and iron pipes. Many of the original streams in the area still flow under the ground. Sometimes these historic streams follow the man-made course set out to contain them, and sometimes these creeks "go wild" finding their own passage underneath the urban fabric.NYC H2O will locate one of these historic creeks and, with your help, make it visible with painted marks. Get your hands dirty with blue chalk paint and mark a temporary portrait of the stream's course —making the presence of urban water visible for a day. End your tour with a drink and snacks at a local bar.
Boekingskosten
Good news! No extra fees are applied to this booking.
Dit vind je misschien ook mooi