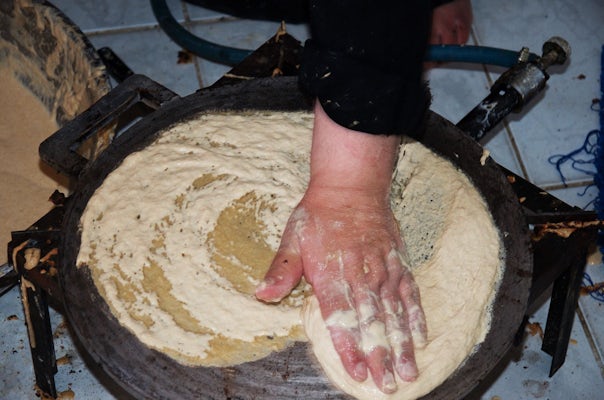 Info rapide
Cosa aspettarsi
Punto d'incontro
Recensioni
Hai domande?
Petra Baking Class: Learn to Make Traditional Jordanian Bread
Durata:
Flessibile
È necessario stampare il voucher
Cosa farai
Learn about the history and techniques of traditional Jordanian bread making while supporting community development in Petra..Craft your own bread and bake it in an oven that has been in use for centuries..Sit down with your chef host and their family and enjoy a traditional meal of Galayah Bandoora.
Cosa aspettarsi
Discover and bake your own traditional Jordanian bread! Fresh bread is an integral part of Jordanian life. No meal is considered complete without it. Stimulate your senses with the smell of fresh bread baking by joining locals in Petra to learn the techniques of baking traditional breads with methods that have been passed down for generations.Meet your English-speaking host at your accommodation or previously arranged meeting point, and head to a family home in the town of Wadi Musa. There, meet the chef who will lead your workshop, and share Jordanian tea. It's now time to roll up your sleeves and get ready to make bread! You will have the opportunity to make traditional shrak, a large, very thin unleavened flatbread, or taboon, a flatbread usually cooked over an oven and typically eaten with fillings. Bake taboon in clay ovens that have been used for centuries, or watch the skillfulness of the chef as he stretches and throws skrak over the skillet. After the bread is baked, enjoy the finished product as you sit down with the chef and his family for a Jordanian breakfast or a traditional meal of Galayah Bandoora. This dish is made with tomatoes, chicken, and vegetables layered and then flipped upside-down to serve. Now is your chance to learn how to eat like the locals! See how to properly tear the bread you've made and use it to scoop up the Galayah. Drink tea and taste other traditional side dishes such as labeneh, zait, and zaatar. You will also have the opportunity to purchase a dessert made by local women for an additional cost (please give advance notice if interested).Please note that taboon bread is baked at sunrise (7 AM) and only available from April 5th - September 15th. The meal you eat in this case will be breakfast. Shrak bread can be made year-round, either in the morning for a lunchtime meal or the afternoon for an evening meal.
Commissioni di prenotazione
Buone notizie! Non sono applicate commissioni di servizio a questa prenotazione.
Ti potrebbe piacere anche