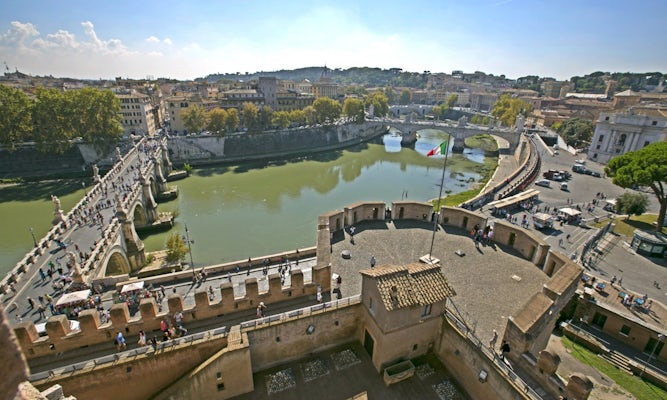 Info rapide
Cosa aspettarsi
Tariffa ridotta
Punto d'incontro
Recensioni
Hai domande?
Official Angels and Demons Rome Illuminati tour
Disponibilità:
Sunday, Tuesday, Friday
Durata:
4 hours
Lingua:
English
Voucher sul cellulare accettato
INSTANT CONFIRMATION
Cosa farai
A unique, treasure-hunt like experience to visit Rome's most incredible churches, fountains and squares
Your expert guide will make sure to engage everyone in your group!
You'll be whisked around the city in a comfortable, air-conditioned coach
You'll take a short break for coffee at one of Rome's best café's
Cosa aspettarsi
For Dan Brown fans - but not only - this guided tour is designed to help you learn about the secrets and riddles hidden away inside Rome's famous churches and squares. This is the first and only Official Angels and Demon's Illuminati Tour. Discover Rome in a refreshing and unique way by visiting places you would never otherwise get to see. Your expert guide will be with you each step of the way and will encourage you to ask questions and resolve the mysteries you'll encounter along the way.
You'll see the settings of Dan Brown's novel, Angels and Demons, which include Rome's Piazza del Popolo in the beautiful Santa Maria del Popolo Church. Here, your guide will set the scene for your race against the clock through the eternal city. You'll have the chance to unlock centuries-old clues that are hidden in plain sight. Learn about the great sculptor Bernini, one of Rome's best-known artists. Having your guide is important, both for the entertainment value and because your guide will play a key role in making your tour an unforgettable experience as you are led on a quest to separate fact from fiction and history from stories in the novel.
Your tour will guide you through the city as you travel in a comfortable air-conditioned coach. From the epicentre of the novel's action sequences, St. Peter's Square at the Vatican, you'll head over to Santa Maria della Vittoria church, where you'll admire Bernini's beautiful masterpiece, the 'Ecstasy of St. Teresa'. You'll have to look at it very carefully if you want to catch certain clues that are waiting for you there.
Your guide will bring the novel to life and will further enrich your experience by sharing the fascinating history of each of the places on your tour's itinerary.
About half way through the tour, you'll grab a coffee at one of Rome's best café's, a welcome break as you cover the city end to end in search of clues. This pursuit will take you to well known spots in Rome such as the bustling Piazza Navona, to hidden gems such as Piazza della Minerva, where you'll learn a little about Bernini's humorous side.
Your search for the secret meeting place of the Illuminati and the novels' finale will culminate on the terrace of Castel Sant'Angelo. Originally built as a mausoleum for the emperor Hadrian, this impressive fortress was for many years a safe-haven for Popes and is connected directly to the Vatican by a hidden passageway called "il passetto", which you'll be able to see from outside. Listen to your guide expertly recount the dramatic climax of the novel as you admire the equally dramatic view of the city center as seen from Castel Sant'Angelo's roof
This tour provides a unique way to visit the most beautiful piazzas in Rome as well as the unexplored sites where pagan symbolism and Christianity intermix to reveal a fascinating historic truth. It's an enjoyable experience whether you are a fan of Angels and Demons, curious about the Illuminati, love hearing about old mysteries or just simply someone who wants to discover Rome under a different light.
Jump right into the middle of the action on this interactive Official Angels and Demons Rome Illuminati Tour.
Cosa è incluso
Tour as per description
Admission fee to Castel Sant'Angelo
Coffee Break
English-speaking tour guide
All transfers in air-conditioned bus
Small groups of 25 people or less
All entrance tickets are included in your tour price
Cosa non è incluso
Gratuities
Hotel pick-up/drop-off
Tariffa ridotta
Children 0-3 year olds travel for free and do not require a reservation (Strollers or baby carriages are not allowed on this tour)
Reduced price for children 4-14 year olds, with proof of age
Dove
Piazza del Popolo, on the steps of Santa Maria del Popolo church (Santa Maria del Popolo is the church located next to the big archway).
Punto d'incontro:
Piazza del Popolo, on the steps of Santa Maria del Popolo church (Santa Maria del Popolo is the church located next to the big archway).
Da ricordare
Extra measures may be implemented at some venues due to heightened global security. As a result, we may experience delays in getting through mandatory security checks when entering these venues. Extra measures may also restrict the size of bags that can be brought inside. To avoid disruptions or possible denied entry, we strongly suggest that you avoid bringing large purses, bags, or backpacks on your tour.
Quando
Sunday, Tuesday, Friday
Meeting Time: 08.45am
Departure Time: 09.00am
Clients must arrive at the designated meeting point 15 minutes prior to the scheduled tour time and present their tour voucher to the tour coordinator/guide. Missed tours or tickets due to late arrivals cannot be refunded.
Commissioni di prenotazione
Buone notizie! Non sono applicate commissioni di servizio a questa prenotazione.
Opinioni su quest'esperienza
Ti potrebbe piacere anche