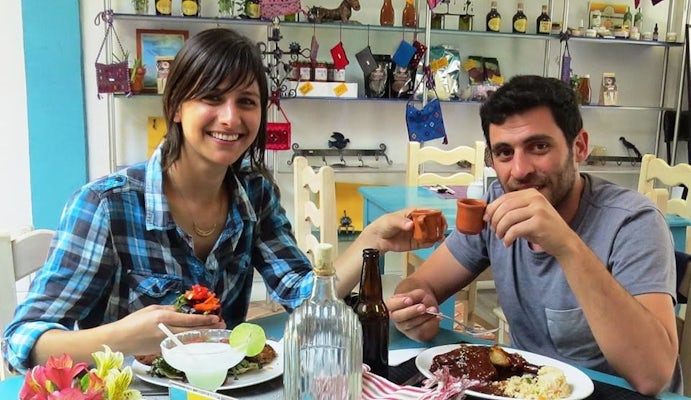 Info rapide
Cosa aspettarsi
Punto d'incontro
Recensioni
Hai domande?
Chiapas Restaurant Tour: A Blend of Cultures in Cuisine
Durata:
Flessibile
È necessario stampare il voucher
Cosa farai
Visit an authentic restaurant combining different ethnic traditions and support the community of Chiapas..Craft your own menu and pick out special items..Discover the blend of traditions in Chiapas.
Cosa aspettarsi
Learn how to run an authentic restaurant! The staff at Restaurant Belil will take you through a normal day and teach you all of the steps that contribute to a successful restaurant. Restaurant Belil serves food from a myriad of communities in Chiapas. These communities feature a diverse group of indigenous people and the cuisine at Restaurant Belil reflects the blend of cultures. Begin your day with a brief explanation of the history and growth of the restaurant. The staff will guide you through the menu, pointing out their emphasis on maintaining authenticity and capturing the gastronomic culture. Help pick out menu items and listen to the traditions behind the indigenous cuisine. As you craft your own menu and special items, collaborate with the skilled and dedicated chefs. Taste the organic and locally-sourced coffee and chocolate, two rich, tasty parts of the cuisine. After experiencing life in the restaurant, visit some of the other organizations and cooperatives in the city. Restaurant Belil partners with other neighborhood programs and is proud of these connections. Take the feeling of community and authenticity that you tasted in the food and bring it with you as you explore the rest of the city!
Commissioni di prenotazione
Buone notizie! Non sono applicate commissioni di servizio a questa prenotazione.
Ti potrebbe piacere anche