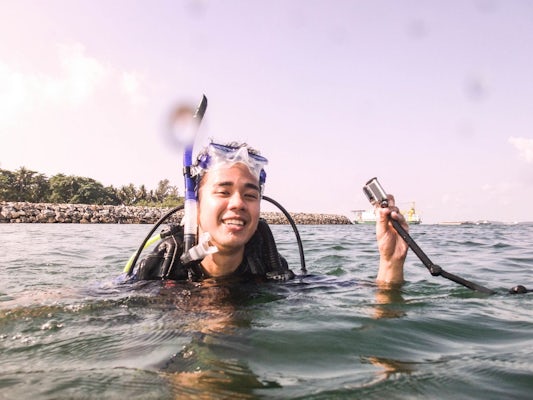 Aperçu
Ce qui vous attend
Lieu de rendez-vous
Avis
Poser une question
Singapore Scuba Tour: Diving in the Reefs of Pulau Hantu
Durée:
Flexible
Billet imprimé obligatoire
Points forts
Explore the island of Pulau Hantu while supporting the health and preservation of the reefs..Experience the diversity of corals, nudibranch, crabs, cuttlefish, seahorses, shrimp, sea turtles, and sharks during two dives!.Take a boat ride and experience the last remaining untouched coasts of Singapore.
Ce qui vous attend
Depart on an adventure to Pulau Hantu Island. During the 40-minute boat ride, pass by several of Singapore's southern off-shore islands and glimpse some of Singapore's last untouched coasts! The boat will pass by islands fringed with mangroves, providing the opportunity to see eagles, herons, and terns. If you are lucky, you might even spot some otters! Upon arrival at Palau Hantu, experienced guides will introduce you to this island and its cultural and biological background. Then, get ready for the first dive with a briefing and by preparing your gear. The first dive will last one hour with an average depth of 11m/36ft, and a maximum depth of 22m/72ft.At the end of the hour, all divers will surface for a surface interval of 45 minutes to an hour. Discuss the amazing sites seen on the first dive, and discover what else can be viewed for the second dive! Prepare for the second dive and explore more of what this island has to offer. You will have the chance to see a large diversity of hard and soft corals, several species of nudibranch, crabs, cuttlefish, seahorses, shrimp, and even hawksbill sea turtles and sharks! After the second dive, prepare for the journey back to the starting marina. Please bring a packed lunch and sufficient water for the duration of the trip. Open Water Diver certification is required for this tour.
Frais de service
Bonne nouvelle! Aucun frais supplémentaire n'est appliqué à cette réservation.
Ceci pourrait également vous plaire
Désolé, il n'y a plus de place