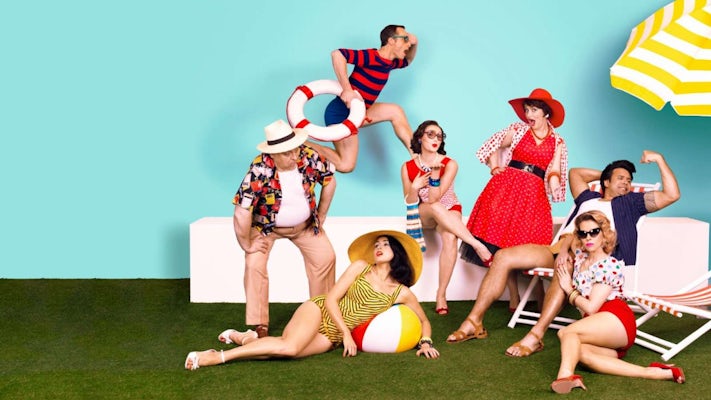 Kurzbeschreibung
Beschreibung
Treffpunkt
Bewertungen
Kundenservice
The Turk in Italy at the Sydney Opera House
Verfügbarkeit:
10 August - 1 September 2018
Dauer:
3 hours
Nur ausgedruckte Tickets
INSTANT CONFIRMATION
Highlights
Enjoy a ridiculous romp by the seaside with the finest comic talents
Take in the stage set decked out in gelato colours
Experience the Sydney Opera House
Beschreibung
No trip to Sydney is complete without a visit to the Sydney Opera House, the city's most famous building. And what better to do when visiting the Sydney Opera House than to spend a pleasant evening inside enjoying an opera performance.
A poet with writer's block is searching for inspiration as he writes his story. The flirtations and furies of his little seaside Italian town are boring him, but things heat up when a handsome Turkish prince arrives in town.
Suddenly, Fiorilla finds herself torn between her boring old husband Geronio, her jealous young lover Narciso and the mysterious, dashing young Turk.
The Turkish Selim has problems of his own: how can he choose between the vivacious Fiorilla and the sad-eyed gypsy girl he once loved?
Perhaps a costume ball will help sort things out? (Because that always works!)
Suddenly, the poet's story is a romantic comedy with all the ingredients for success: love, jealousy and mistaken identities.
Kartenansicht
Joan Sutherland Theatre, Sydney Opera House, Bennelong Point, Sydney NSW 2000, Australia
Wichtige Informationen
The performance lasts approximately 3 hours with an interval for you to enjoy a drink at the bar and enjoy the harbour view
All performances have full English subtitles projected on a screen above the stage
Tickets will be available for collection from the Sydney Opera House Box Office, one hour before performance commencing. Please be prepared to provide a form of photo identification bearing the same name as your booking
Uhrzeiten
10 August at 7.30pm
15 August at 7.30pm
18 August at 12.30pm
23 August at 7.30pm
25 August at 7.30pm
28 August at 7.30pm
30 august at 7.30pm
1 September at 7.30pm
Buchungsgebühr
Es fallen keine zusätzlichen Gebühren im Falle einer Buchung an.
Dies könnte Ihnen ebenfalls gefallen