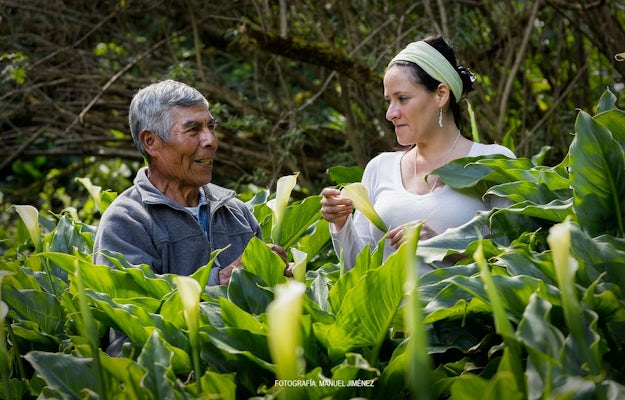 Información básica
Qué te espera
Lugar de encuentro
Opiniones
¿Tienes preguntas?
Oaxaca Adventure Tour: Traditional Mexican Communities Hike
Duración:
Flexible
Es necesario imprimir el bono / entrada
Ventajas
Take a 3-day hiking expedition through traditional, high-mountain communities while supporting local livelihoods and the promotion of responsible tourism..Hike through the Sierra Norte mountains to the villages of Latuvi, La Nevería, and Benito Juárez..Visit the communities' greenhouse and mushroom farm to learn about their sustainability development.
Qué te espera
Discover the heritage of a living land amongst the traditional communities of Pueblos Mancomunados, tucked high up in the mountains of the Sierra Norte. This three-day hiking expedition takes you to three communities and invites you to awaken your senses. Smell the fresh scent of flowers, fruit, wet earth and mountains, experience the shelling of a corn cob, the water's freshness flowing out of a spring, hear the stories of the forest, and treat your palate to the products of the earth and people's hard work. Day 1 Travel from Oaxaca city to Latuvi, where we will begin our tour on the route El Manantial. El Manantial, or 'the spring,' is a hike of special significance to the inhabitants of Latuvi, as it demonstrates the importance of agriculture and the cultivation of fruits to their community. Before the hike begins, attend a workshop on the production process of homemade jam and the typical mountain bread of this high-altitude region. In the evening, enjoy these products as you sit around a campfire and listen to the legends and the traditions of the Latuvi community. Day 2 Walk from Latuvi to the smallest community of Pueblos Mancomunados, La Nevería. Follow a quiet path to the community, amidst the biodiversity and the changing climate zones of the Sierra Norte. Observe the change from the oak forests of the lower altitudes to the cold pine forests of La Nevería. In La Nevería, work as a volunteer in a greenhouse, getting to know this community's efforts to create traditional and sustainable development. Day 3 Hike to the community Benito Juárez, taking in the locals' farming plots along the way. In Benito Juárez, visit a group of locals that have dedicated themselves to mushroom cultivation, and learn about their use and medicinal qualities.Tour price includes:- Transport from Oaxaca City to Sierra Norte back to Oaxaca- Local guide for 3 hikes in Sierra Norte- Accommodation for 2 nights in a private cabin in Sierra Norte- 7 meals per person (2 breakfasts, 3 lunches, and 2 dinners)- Visits to two local projects (jams and mushrooms )- Water- Travel insurance
Cargo por reserva
¡Buenas noticias! Esta reserva no tiene ningún cargo adicional.
También puede interesarte