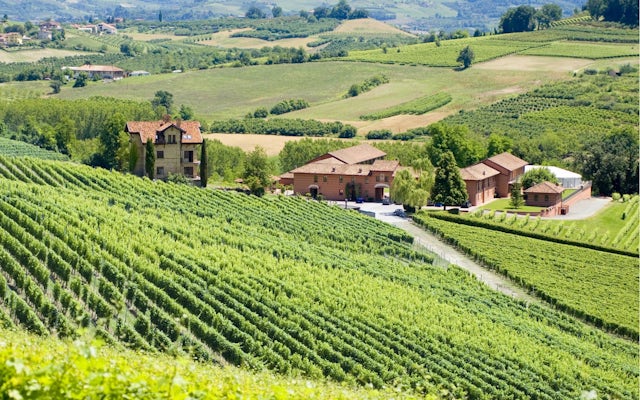 Kurzbeschreibung
Beschreibung
Ermäßigungen
Treffpunkt
Bewertungen
Kundenservice
Barolo and Barbaresco wine tasting between Langhe and Roero
Dauer:
an hour
Sprachen:
English, Italian
Digitale Tickets
Highlights
Visit a historic winery in Roero
Taste Barolo and Barbaresco wines
Discover the most beautiful part of Piemonte
Beschreibung
"Tenuta Carretta is a member of The Grand Wine Tour Association: a quality brand that certifies hospitality excellence in the best wineries. The Grand Wine Tour is also a magazine online."
La Tenuta Carretta is rooted centuries in the past, deriving its name from the noblewoman called "domina Careta" from the Constanzi di Alba Family. The most ancient testimony to the cultivation of grapes for wine in the "cassina Careta" region is found in a notary deed approved by the Count Andrea Damiano on the 28th of November, 1467. This document indicates the start of the history of winemaking on this property with the Miroglio di Alba Family taking center stage from 1985.
Today, its atmosphere and location are certainly two things that render the Tenuta Carretta a unique place. The plot of land rises in an elevated position above the small valley of Piobesa d'Alba. The landscape is marked by small hills covered in vineyards - a truly picturesque vision. The beauty of this natural place inspired the idea of the "Grape's Road", a project of vine-trekking between the vineyards of the Tenuta Carretta. This activity allows the guests to discover the authentic beauty of Roero.
At the Tenuta Carretta, wine lovers can familiarize themselves with the principles that guide the wine production and follow the production process itself from the harvesting of the grapes all the way to the bottling of the wine. Guests can choose between various tasting options both in the wine shop and the wine cellar. Here, the wines are produced exclusively from grapes harvested on this land between Langhe and Roero. The wine cellar, for the main part, is underground, covered by a grass lawn, helping to naturally maintain the ideal temperature and humidity for the winemaking process and aging.
Tasting Options
Le Riserve | 3 Grand Cru wines (Barolo Cannubi, Barbaresco Cascina Bordino, Roero Riserva Bric Paradiso) € 18
Inklusive
Private guided tour of the winery and vineyards
Private tasting
Ermäßigungen
Children 17 and under: free (no tasting)
Kartenansicht
Località Carretta, 2, 12040 Piobesi d'Alba (CN)
Wichtige Informationen
The Tenuta Carretta has received many awards for its wines. The most notable awards for 2017 include: the 4 stars of Vinibuoni d'Italia for the Roero Arneis Docg Cayega 2015 and the Langhe Nebbiolo Doc Podio 2014, the 4 grappoli di Bibenda and the 91 punti di Veronelli for the Barbaresco Docg Cascina Bordino 2012 and, lastly, the 4 grappoli di Bibenda, the 93 punti di Veronelli and the 2 cuori di Merum awarded to the Barolo Docg Cannubi 2011
Buchungsgebühr
Es fallen keine zusätzlichen Gebühren im Falle einer Buchung an.
Dies könnte Ihnen ebenfalls gefallen