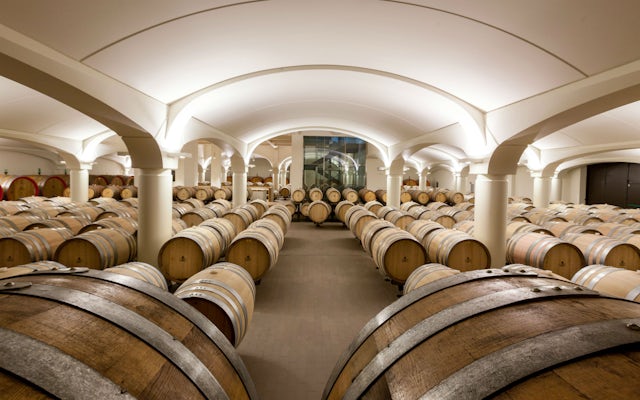 Info rapide
Cosa aspettarsi
Punto d'incontro
Recensioni
Hai domande?
Tasting of regional wines at Umberto Cesari
Disponibilità:
Tuesday - Fridday
Durata:
2 hours
Lingua:
English, Italian, French, Spanish, German
Voucher sul cellulare accettato
Cosa farai
Private tasting at the Umberto Cesari Winery
Taste local wines including the Sangiovese and the Pignoletto
Enjoy a pairing with traditional, regional food products
Cosa aspettarsi
"Umberto Cesari is a member of The Grand Wine Tour Association: a quality brand that certifies hospitality excellence in the best wineries. The Grand Wine Tour is also a magazine online."
Located in Castel San Pietro Terme, among the hills that dominate the landscape of the ancient Via Emilia on the border between Emilia and Romagna, this winery was founded in the early 60's by Umberto Cesari and his wife Giuliana. From the very beginning, Cesari believed strongly in the power of the land, capable of producing extraordinary grapes and excellent wines, on par with the most notable Italian red wines. Therefore, he worked to enhance and promote the potential he saw in this land. As one of the first wine makers in Emilia Romagna to believe in the potential of the Sangiovese grape, Cesari committed himself to this grape and so successfully imparted a productive philosophy that today he is crowned the Master of Sangiovese ("Ambasciatore del Sangiovese").
Today, the winery extends over nearly 175 hectares of land and includes 6 vineyards - Casetta, Parolino, Ca' Grande, Laurento, Liano and Tauleto - that spread among the hills that lead towards Tuscany. They are protected by a crown of badlands called the Blue Badlands because of the color that their slopes take on sunny days.
Umberto Cesari boasts a partnership with local notable companies including Ferrari and Lamborghini, both of which have chosen to serve Cesari wine at important events.
On this tasting experience, you will have the opportunity to chose from among the following options:
Fine Wine - guided tasting of 3 wines paired with local food products
Bubbly Pignoletto DOC accompanied by Favolosa Palmieri® mortadella thinly sliced and served with bread
Ca' Grande Sangiovese di Romagna DOC Superiore accompanied by two salame and a warm local bread
Sangiovese di Romagna DOC Riserva accompanied by fresh ricotta flavored with drops of balsamic vinegar
Palate Pleasers - guided tasting of 4 wines paired with local food products
MOMA Bianco accompanied by a young caciotta cheese and a mortadella mousse served with fresh celery
MOMA Rosso Sangiovese Merlot Cab. Sauvignon IGT accompanied by two salame and a warm local bread
Laurento Sangiovese di Romagna DOC Riserva paired with a small potato and cheese pie
Yemula Sangiovese Merlot Rubicone IGT paired with two aged Parmigiano Reggiano cheeses
The Cru - guided tasting of the most prestigious wines paired with local food products
Liano Chardonnay Sauv. Blanc IGT accompanied by a soft cheese with caramelized figs, prosciutto from Parma and seasonal raw vegetables served with warm bread
Liano Sangiovese Cabernet Sauv. IGT accompanied by a small potato and cheese pie
Tauleto Sangiovese Rubicone IGT accompanied by an two aged Pecorino cheeses and dark chocolate
Colle del Re Albana di Romagna DOCG Passito accompanied by Pecorino di Fossa di Sogliano sul Rubicone
Cosa è incluso
Guided visit of the winery and vineyards (time permitting)
Wine tasting
Local food tasting
Cosa non è incluso
Transportation (available upon request)
Dove
Via Stanzano, 2160, 40024 Castel San Pietro Terme BO, Italy
Da ricordare
The connection of this winery to the world of the arts is demonstrated through the Umberto Cesari Art Contest started in 2011 with the intention of promoting emerging artists and new talent by offering them the opportunity to propose a new label for the MOMA line of wines, originally marked by a label showcasing a work of Giorgio Morandi, one of the most noteworthy Italian painters of the 20th century.
The Tauleto wine (90 % Sangiovese Grosso, 10% Bursona Longanesi), one of the wineries most important wines, won the title of Best Sangiovese in the world at the WSC in London in both 2003 and 2007. The winery and its wines have also been cited by important guides including The Wine Advocate, Wine Spectator, James Sucking.
Commissioni di prenotazione
Buone notizie! Non sono applicate commissioni di servizio a questa prenotazione.
Ti potrebbe piacere anche