Beat the heat with a trip to the cool Cova d'en Xoroi – an entertainment venue like no other. A club and chill-out bar hewn deep into the rock face, head here to admire magnificent views over the Med and learn the legends surrounding this ancient beauty spot. Laidback Balearic beats in the background, grab a drink from the bar and top up your tan by day, or arrive later to watch nature's nightly show – a stunning Menorcan sunset.
Enjoy a day out in nature served up alongside an unmissable taste of traditional Menorca. Spot wildlife in the woods on a walk through the spectacular Albufera des Grau Natural Park, then head for a well-earned cheese-and-wine tasting session at St Patrici farm to try the island's famous Mahon cheese.You'll spend the first part of your afternoon exploring Albufera des Grau Natural Park – part of Menorca's UNESCO Biosphere Reserve. With a guide by your side, you'll wander through the wetlands of this protected natural area and keep your eyes peeled for rare plants, birds and wildlife like the Balearic lizard and the fisher eagle.Then at St Patrici farm, you'll discover why their fine wines and local cheese are highly prized all over Spain. Sample a perfect pairing of the two with a tour and tasting session and round off with a stroll in the ornate gardens around the winery's stately home.
Duration
from 2 hours to 4 hours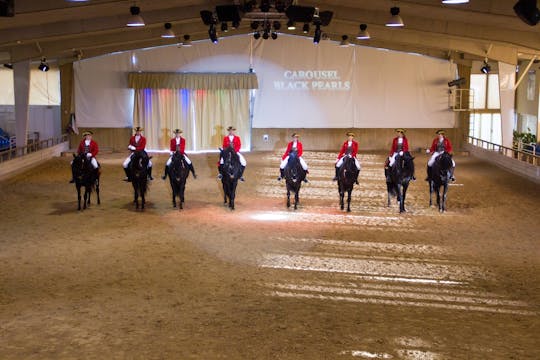 Menorca may be famous for its beautiful beaches but tear yourself away from its shores, and you'll find a century-old culture of horsemanship of the highest calibre. For the first time in Menorca, the equestrian arts mix with magic and emotion in an innovative extravaganza displaying incredible horsemanship skills to live music – at the one and only Somni dancing horses show.Blending visual effects with music and dance, this 'dancing horses' show is the No.1 night out in Menorca. Somni means 'dream' in Catalan and this spectacular show is bursting with dreamlike equestrian feats. It tells the story of a young girl who longs to have a horse to become her friend. She wants it to be her faithful and loyal companion, someone with whom she can share her adventures.You'll live a night of fantasy and colour, and get to immerse yourself in some of the legends and traditions of Menorca in a show that's not just for horse lovers – it's an experience that touches the hearts and souls of all audiences.
Duration
from 2 hours to 4 hours
Popular experiences in Menorca