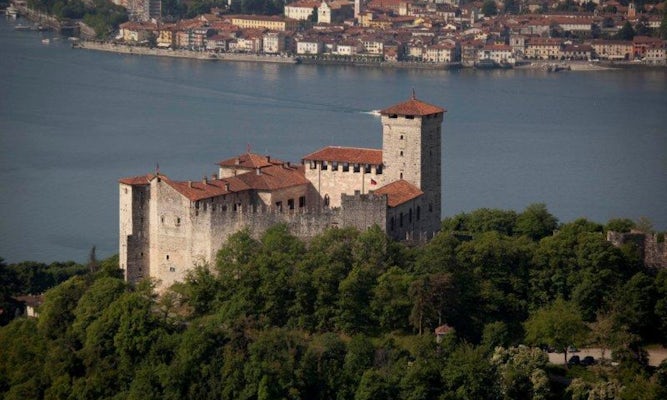 Info rapide
Cosa aspettarsi
Tariffa ridotta
Punto d'incontro
Recensioni
Hai domande?
Tickets for Rocca D'Angera
Disponibilità:
From March 23 to October 21, 2018
Durata:
a day
Voucher sul cellulare accettato
INSTANT CONFIRMATION
Cosa farai
Discover the solemnity of historical halls that span different centuries
Immerse yourself into a green paradise surrounded by Lago Maggiore
Explore the charming Museum of Dolls and Toys
Step into a long-gone era by strolling throughout the Medieval Garden
Cosa aspettarsi
Standing on a spur of rock above the southern shores of Lago Maggiore, Rocca D'Angera was the house of the Visconti family before being acquired by the Borromeo family in 1449.
Five different buildings, spanning from the medieval era to the Fifteenth Century, have been merged throughout the centuries and now form the majestic Rocca D'Angera: the Torre Castellana, Ala Scaligera, Ala Viscontea, Torre di Giovanni Visconti and the Ala dei Borromeo.
Historical halls and gardens
Throughout the historical halls, visitors can perceive the solemnity of the spaces evident in the great paintings, portraits and richly decorated furniture, and be transported back in time.
The medieval influences can be observed also outside the Rocca: here, Borromeo master gardeners conceived and implemented structures and processes used in the Middle Age. Blending together healing herbs and ornaments, grown according to geometrical patterns, the garden have been progressively transformed into the colorful paradise that can be seen today.
The Museum of Dolls and Toys
Founded in 1988, the Museum of Dolls and Toys is one of the greatest in Europe. With its unique collection of dolls and toys, it unlocks the immagination and inspire visitors while narrating the stories of dolls and playtime. The collection includes more than one thousand dolls crafted since XVIII using ancient traditions and materials: from wood to wax, from papier-mâché to porcelain, arriving to biscuit, composition and cloth.
From 8 April, 2018 to 30 September 2018, it will be possible to visit Continuum, an expository project at which the Ala Scaliger will be inagurated. The new Ala Scaligera will be a space dedicated primarily to contemporary art and creativity. Its rooms, open for the first time after its restauration, were re-done to fit the modern expository standards of contemporary creativity, while maintaining the preexisting traces of history already within. The first group of artists invited to display their work includes Giovanni Anselmo, Vanessa Beecroft, Daniel Buren, Sheila Hicks, Anish Kapoor, Giulio Paolini and Ettore Spalletti, distinguished for their innovative artistic language, although tied as well to various aspects of classical art.
Cosa è incluso
Entrance to the Rocca D'Angera
Entrance to the Doll and Toy Museum
Entrance to the Garden
From 8th April to 30th September, entrance to the Ala Scaligera
Tariffa ridotta
Children from 6 to 15 years of age: reduced
Children under 6 years of age: free admission
Dove
Rocca D'Angera, Via Rocca Castello, 2 21021 Angera VA
Rocca D'Angera can be reached by boat or hydrofoil from Stresa, Arona, Pallanza, Locarno.
Da ricordare
Ticket valid until 21 October, 2018 from 9.00am to 5.30pm (last entrance)
The island is not accessible to people with limited mobility
How to get to Rocca D'Angera:
By car: Autostrada dei Laghi – 61,5 km from Milan – exit Sesto Calende. From there, you take the strada statale 629, direction Angera, where you can find many tourism signages to lead your way.
By boat: You can reach the Rocca from Stresa, Arona, Pallanza, Locarno by boat or hydrofoil.
By train: Ferrovie dello Stato, line Milano-Sempione, stop: Arona, connection with the boat to reach Angera.
Quando
Every day from 9.00am to 5.30pm (last entrance) from March 23 to October 21, 2018
Please note that on Sunday 15 April, the Rocca di Angera will be closed to the public
Continuum: from 8 April to 30 September, 2018 every day from 10.00am to 4.30pm
Commissioni di prenotazione
Buone notizie! Non sono applicate commissioni di servizio a questa prenotazione.
Opinioni su quest'esperienza
Ti potrebbe piacere anche