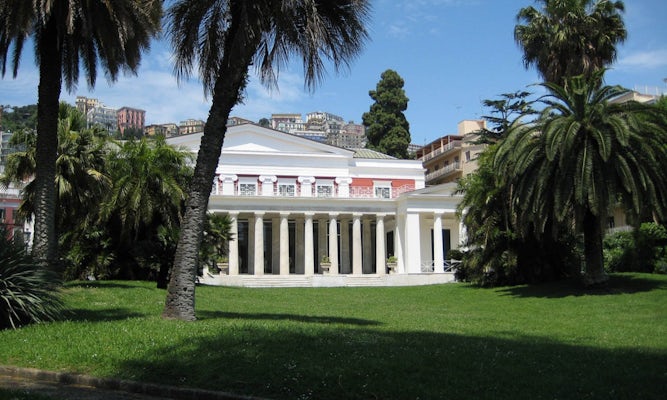 Snelle info
Wat te verwachten
Prijs met korting
Verzamelpunt
Recensies
Een vraag stellen
Tickets for Pignatelli Cortes Museum
Beschikbaarheid:
Monday-Sunday (closed on Tuesday)
Duur:
a day
Alleen geprinte tickets
INSTANT CONFIRMATION
Doe dit omdat
Discover this "house-museum", where everything is still in their original location
Visit the collection of 19th century French, English and Italian carriages
Browse domestic objects, ornaments in bronze and porcelain from the 19th century
Wat kan je verwachten
The Museum Pignatelli Cortes is an example of "house-museum": the objects you see inside are still in their original location and in their original rooms. The Museum was once the residence of several noble families, such as the Actons, the Rothschilds and the Pignatelli family.
Elegant example of the neoclassical architecture typical of the city of Naples, the Villa was designed by Pietro Valente in 1826, while the museum was created later, in 1955, when the princess Rosina Pignatelli donated the park and villa to the Italian state. She also donated all the furnishing and collections that were inside the residence: domestic objects, silverware, ornaments in bronze, small bronze statues and porcelain. All these objects represent the artistic interests of the Pignatellis. Climb the grand staircase and arrive at the upper floor, where you can see a collection of art from the Bank of Naples, with treasures from the 16th to the 19th cenntury. The basement was completely restructured and is now used for conferences and exhibitions.
Don't miss a visit to the garden pavilion where the Museum of Carriages is hosted. This collection shows many examples of French, English and Italian carriages and gigs, as well as many leather objects, riding crops, bridle bits, accessories and clothing items that prove the high quality of artisanal production in Naples in the 19th century.
Wat is inclusief
Entrance to the Museum of Pignatelli Cortes
Wat is niet inclusief
Audioguide
Prijs met korting
Free
Children under 18 years of age with valid identity
Teachers of Italian nationality with a fixed-term contract (please bring valid proof of employment)
Students in undergrad, masters, post grad or research degree in the following areas of study: architecture, cultural arts conservation, education or literature, and philosophy with a focus on archeology or art history
Reduced
Citizens of the EU from 18 through 24 years of age with valid identity
Teachers in public schools within the European Union, with a permanent contract
Waar
Museo Pignatelli Cortes
Riviera di Chiaia 200
80121 Naples
Verzamelpunt:
How to get there:
Bus: ANM R3 Riviera di Chiaia
Bus: ANM R7 Via Riviera di Chiaia
Bus: CTP M1NB Via Riviera di Chiaia
Wat te onthouden
Free admission the first Sunday of each month
In order to take advantage of the discount/free admission, you must present a valid identity document at the ticket office. Visitors who fail to meet this requirement will not be admitted to the site
The price breakdown is as follows: Full price ticket €5 + €2 presale; Reduced ticket €2.5 + €2 presale; Free ticket (Special reduced) €0 + €2 presale
Wanneer
Monday-Sunday 8.30am - 5pm (last admission at 4.00pm)
Closed on Tuesday, December 25, January 1
Provider
Musement - Convenzione CoopCulture - Rivenditore
Boekingskosten
Good news! No extra fees are applied to this booking.
Wat mensen over deze activiteit zeggen
Dit vind je misschien ook mooi