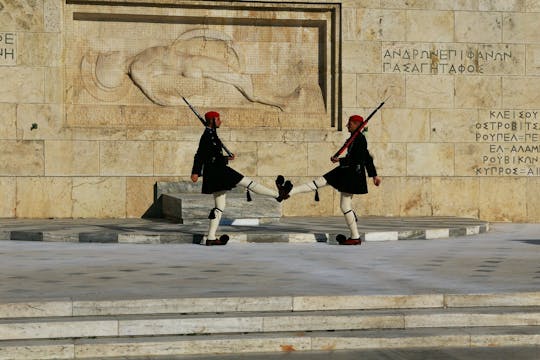 Athens Cradle of Democracy Small Group Tour
Athens is packed with landmarks steeped in history. Enjoy a small group tour of some of the most important locations in the cradle of democracy, including the Acropolis and the Parthenon.Kick off with a tour of the city's top sights. Enter the famous old town district, Plaka, and follow the pedestrian zone to the Acropolis. Climb the hill and reward yourself with a spectacular view of Athens. Listen to the detailed descriptions of monuments of the Acropolis and its surrounding landmarks – the Shrine of Dionysus, the Philopappos, the Areopagus and the Agora.And if you wish, you can visit the award-winning Acropolis Museum. Ever since it opened a decade ago, it has wowed visitors with its collections of thousands of priceless artefacts dating to the fifth century BC. You'll also have some free time to explore Athens old town. Maybe have lunch at one of the many pavement cafés or check out the shopping opportunities in Plaka.
Duration
more than 8 hours
Ancient Olympia Tour for Robinson Club Guests
Visit the crumbling ruins, solitary pillars, and faded frescoes of any UNESCO-listed site and it can be tough to imagine the grandeur that once was – so this tour takes your experience to the next level. Using a tablet, you'll see ancient monuments brought to life in the birthplace of the Olympic Games – Olympia.
Duration
from 4 hours to 8 hours
Popular experiences in Peloponnesos