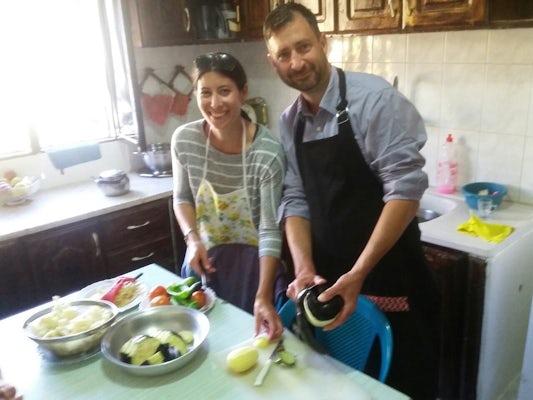 Info rapide
Cosa aspettarsi
Punto d'incontro
Recensioni
Hai domande?
Petra Food Tour: Cook a Delicious Meal with a Local Family
Durata:
Flessibile
È necessario stampare il voucher
Cosa farai
Enter a Jordanian home to cook and enjoy a traditional meal while supporting community development in Petra..Discover the recipes, herbs, and spices that are at the base of Jordanian cuisine..Enjoy the meal you create with the chef, host, and family members while sharing in cross-cultural conversation.
Cosa aspettarsi
Delve into Jordanian food, hospitality, and culture! Food plays a big role in everyday life in Jordan, a country known for its legendary hospitality. Let the food tantalize your taste buds as you embark on a journey that will teach you about local meals with the best educators possible: the locals themselves. Jordanians believe that to cook beautiful food you must feel inspired and content. You will be invited into your chef's home where you'll learn to cook your meal, surrounded by warmth and smiles. Choose from several meal options:Maglooba: Literally translating to mean "upside down," this delicious dish is made with layers of chicken, vegetables, and rice in a saucepan. When served, the saucepan is turned upside so that the chicken is now on top and the rice on the bottom. No one can refuse a second helping! Seneyah: A favorite homemade meal of marinated chicken and vegetables that's cooked in the oven.Mansaf: No trip to Jordan is complete without trying the national dish of mansaf. Chicken is cooked in a sauce made from reconstituted dried yogurt and served with boiled rice and shrak bread. Please note that there is a surcharge if you would like to make Mansaf using lamb. Please enquire when booking. Your English-speaking host will meet you at your accommodation, or arranged meeting point, and bring you to the location of your experience. On arrival, share tea with the chef. Then, it's time to get cooking! The chef will assign you meal preparation tasks as you work under his supervision. Learn the names of the ingredients in Arabic, which is sure to impress your friends back home! Enjoy the energy in the kitchen, and get to know your host and their story and experiences. As the meal cooks, sit back and get to know the chef's family. Then, it will finally be time to enjoy the product of your hard work! Sit down with your host, the chef, and any of the chef's family members who are around, and eat until you think you are full. However, the local family will insist that you eat more! Al-ḥamdu lillāh is a phrase you'll want to remember, as saying this when your host is insisting you eat yet another serving will save your very satisfied stomach. You will be met with the response of Sahtein (to your health). There is the opportunity to purchase a dessert made by local women for an additional cost (please give advance notice if interested).After your delicious experience, head back to your accommodation with the help of your host. You also have the option to enjoy the above experience with a local family, without the cooking aspect (1-2 hours). The meal will be prepared for you instead.
Commissioni di prenotazione
Buone notizie! Non sono applicate commissioni di servizio a questa prenotazione.
Ti potrebbe piacere anche