The past is part of the landscape in Tunisia and nowhere more so than Kairouan – the country's holiest city – and in the Roman colosseum of El Jem. You'll make a pilgrimage back in time to both during this history-drenched full day excursion.Kick off in the walled city of Kairouan. Visit Africa's second-oldest mosque and explore the crumbling medina quarter. The interior of the Great Mosque is dazzling. The ornate tiles, intricate carpets and pine-shaped chandeliers are beguiling and even the drains are beautifully decorated. Next, marvel at the elaborate tiles and stucco of the Sidi Sahbi mausoleum then wander the medina's meandering alleys of whitewashed houses with faded blue and green doors and window frames.There's a stop for lunch at midday before visiting El Jem Colosseum, the third-largest built by the Romans. During its heyday, up to 35,000 spectators would pack its steep stands to watch gladiatorial fights and chariot races.
Duration
more than 8 hours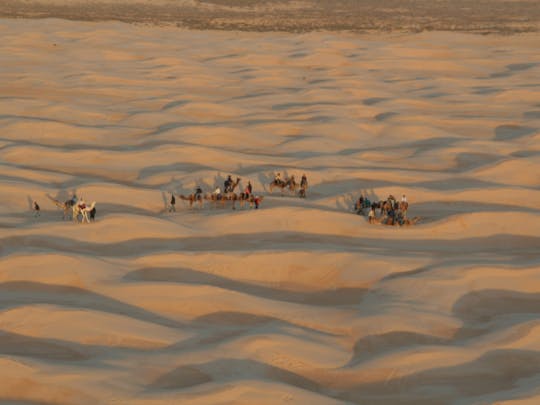 The sands of the Tunisian desert are sprinkled with Hollywood stardust – and this two-day tour takes you to some of the country's top silver screen settings. You'll visit a Roman colosseum, troglodyte houses, cross a vast salt lake, discover an oasis and much more.The clapperboard clicks on your adventure at El Jem Colosseum, where up to 35,000 would pack the stands to watch gladiatorial fights and chariot races. In Matmata, you'll have lunch and visit the rock-hewn cave homes that starred in two Star Wars films. In the afternoon, you'll arrive at the fringes of the Sahara desert for an overnight stay at a hotel in Douz, the 'gateway to the desert'.Early next morning, you'll cross Chott el Djerid – a vast salt lake known for its shimmering mirages and colours. Then jump into a 4x4 for a ride to Onk Jemal, where you'll find the film set city built for Star Wars. There's a stop in Chebika, a palm-studded oasis town, which featured in The English Patient, before lunch in Gafsa.
Duration
more than 8 hours
This half-day tour provides an introduction to a few of the Sousse region's highlights. We'll kick off your morning of exploration at the whitewashed, clifftop town of Hergla. It's known for raffia artisans - who weave all kinds of designs out of this dried palm leaf - as well as being the site of ancient Horrea Caelia during the Roman period. Then, you'll swap sandy coves for the hustle and bustle of Sousse. Once you arrive, you'll head into its maze of a medina, declared a UNESCO World Heritage Site for its fine Arab architecture, unchanged for centuries.
Duration
from 2 hours to 4 hours
Popular experiences in Port El Kantaoui-Sousse