The sands of time have barely swept over Patmos since St John had his Revelations here 2,000 years ago – which makes a daytrip to the isle such a fascinating experience. Stepping off the boat, you'll be struck by the turreted walls of the Monastery of St John. Your guide will explain its fascinating history before we head through the whitewashed streets of Chora to visit the Cave of the Apocalypse. And there's more to this trip than history and heritage – you'll have plenty of free time to relax and wander around the charming surrounds of Skala harbour before sailing back to Samos.
Duration
more than 8 hours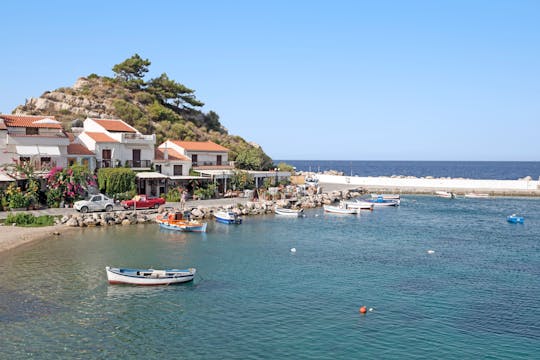 Samos is brimming with cultural and historic riches. And this tour whisks you to some of its best spots, including the Heraion. You'll also visit a monastery and ceramic workshop and explore Potami and Kokkari. Samos is so magnetic that its pull has drawn Irene, one of our guides. She says, 'As a third generation Greek born and raised in Australia, I came to Samos dreaming of archaeology. In just one day, you'll discover as much of this beautiful island as possible – its history, religion, products and people.'Hera was an important deity in ancient Greece. And, according to legend, she was born in the Heraion, a stone's throw from the Aegean. We'll kick off in the ruins of this sanctuary – now a UNESCO World Heritage Site – strolling along the Sacred Way to see the temple and other relics. Next, you'll visit an Orthodox monastery before dropping by a ceramic workshop in Timos. It gives much-needed work to islanders. You'll receive a Pythagoras cup as a souvenir of your visit.Next up is an organic olive factory, where you'll get to sample some of its natural health products. Then, it's on to tiny Potami, where you'll have free time for lunch. There's a lovely beach if you fancy a swim. Or, if you're feeling all Lara Croft, there's a waterfall nearby as well as the ruins of a Genoese castle. In the afternoon, you can explore at your own pace in the seaside village of Kokkari. Here, you can savour views over the sea and Karvounis Mountains.
Duration
from 4 hours to 8 hours
Attractions & guided tours
Take a day trip to Turkey from the shores of Samos. Hop on a ferry and cross the Aegean Sea to tour a real Turkish treasure – Ephesus archaeological site. Let an expert guide bring history to life as you stroll between column-lined avenues crammed with temples, relics and religious statues. Afterwards, there's free time to discover the castles, mosques and shops of Kusadasi, too.
Duration
more than 8 hours
Popular experiences in Samos