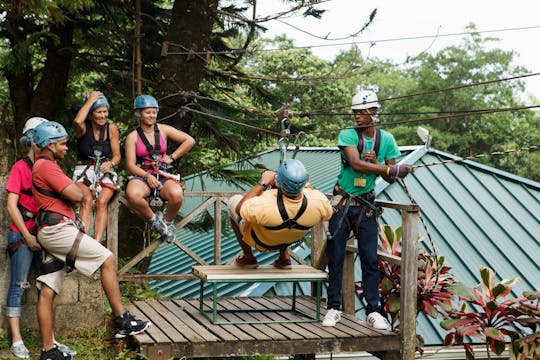 Explore the Castries Waterworks Reserve on the Ultimate Three Tour, which combines a journey by aerial tram, exhilarating canopy zip-line and energizing rainforest hike. Get on-board the aerial tram that will take you on a ride into the dense rainforest past giant trees, lush vegetation and animated birdlife. Disembark at the top for a short hike on a trail which winds its way through the magnificent, mature forest. Experience the thrill of gliding through the tree canopy high above the forest. Adrenaline seekers can fly through the trees with this 9 zip-line and 10 platform circuit. When you need a break, just relax gazing at the fantastic panoramic views of the island from our aerial tram.Knowledgeable guides will accompany you on the tour and the staff will be on-hand to help as you zip from platform to platform suspended in amongst the sturdy trunks of these lofty trees. Hike a short distance to meet the tram for the final descent for this Tranopy Adrenaline tour to explore St. Lucia from the heights.
Duration
from 4 hours to 8 hours
The Adrena-line zip line tour is not for the faint of heart! The exciting tour starts with a short walk through a peaceful part of the tropical rainforest. Get equipped and hitched up to a series of cables and zip from platform to platform high up in the tree canopy.Take a leap and swing like Tarzan or Jane and experience the thrill of flying through the jungle among lush vegetation in this protected-rainforest reserve. After a brisk hike to the next set of platforms your guides will hook you onto the line with descenders so you can continue the adventure as you rappel to base camp. Riggings are on a triple redundancy system for your comfort and safety, so you won't scrape your knees.The adventure takes place just a half-hour drive from the capital at the The Castries Waterworks, at the stunningly beautiful La Sourciere Mountain Reserve. You will certainly feel the adrenaline!
Duration
from 2 hours to 4 hours
The Aerial Tram Tour transports guests up and away from the heat and bustle of the lowlands to an ecological park located in the heights of St Lucia's forest reserve. Sixteen open-air gondolas ascend noiselessly through the rainforest, offering guests a magical view of nature - towering gommiers, impressive chatanniers and the remarkable phenomenon of the strangler ficus, alighted upon by playful hummingbirds and banana quits.An experienced Nature Interpreter will point out giant ferns and magnificent heliconia and identify the calls and the plumage of the birdlife that makes the Caribbean Oceanic forest its home. The descent affords a bird's eye view of the forest and a spectacular panoramic vista of the north of the island. With so much to see and listen for, the tram ride is a celebration of colour and life and a restorative retreat guaranteed to refresh the senses.
Duration
from 2 hours to 4 hours
Popular experiences in Santa Lucia