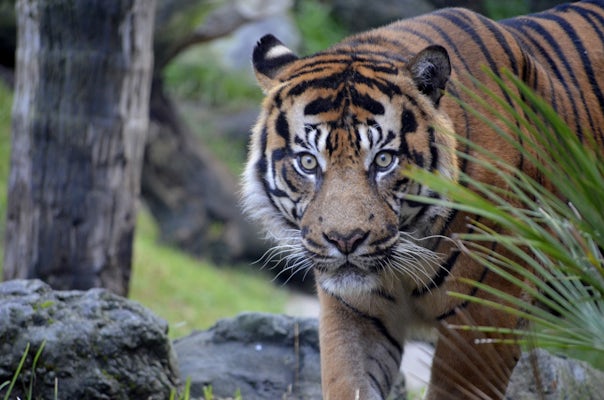 Kurzbeschreibung
Beschreibung
Ermäßigungen
Treffpunkt
Bewertungen
Kundenservice
Bioparc Fuengirola tickets
Dauer:
a day
Nur ausgedruckte Tickets
INSTANT CONFIRMATION
Highlights
Exhibition of birds and mammals
Visit the lemurs in the Madagascar Island
The great komodo dragon
Beschreibung
Bioparc Fuengirola champions a new model of park based on respect for nature and the preservation of natural species, a model which has already established itself as a flagship for Europe.
What Bioparc Fuengirola represents is a different concept of park, a zoological park where animals live side-by-side, recreating their natural habitats of Madagascar, Ecuatorial Africa, Southeast Asia and Indo-Pacific and so fostering their development at all levels. Visitors are stepping inside a true documentary of the deepest tropical woodlands.
Bioparc Fuengirola stands out, among other aspects, for its architectural design as an "immersion zoo", plunging visitors into the animals' native environment. The whole centre is intended as a stroll through an all-surrounding recreation of the creatures' original habitat, providing a solution of continuity between the physical space occupied by the public and by the animals, with the aim of expressing some of the magic involved in walking through the woodlands and discovering their inhabitants.
Inklusive
Entrance to Bioparc Fuengirola
Ermäßigungen
Infants 0-2 years: free
Child 3-9 years: reduced
Senior over 65: reduced
Kartenansicht
Calle Camilo José Cela, 6, Fuengirola, Spain
In the center of Fuengirola. In front of City Hall
Uhrzeiten
Daily, all year round
Opening time: 10.00am
Closing time: 6.00pm, 7.00pm, 8.00pm, 8.30pm, 11.00pm (depending on the season)
The ticket office closes to visitors 1 hour before the park's closing time
On 24 and 31 December the park will remain open until 4.00pm
Anbieter
Bioparc Fuengirola
Buchungsgebühr
Es fallen keine zusätzlichen Gebühren im Falle einer Buchung an.
Dies könnte Ihnen ebenfalls gefallen