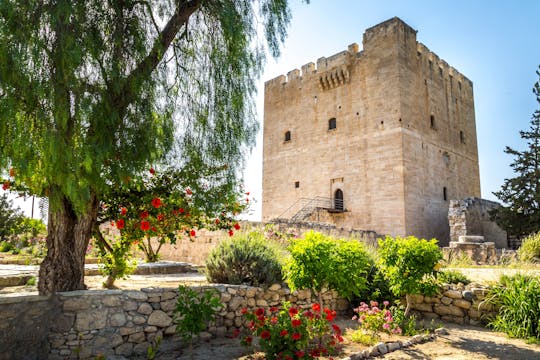 Cyprus is all rolling hills dotted with pretty villages. On this small group tour, you'll see where a legend was born, visit the ruins of Kourion, venture to the village of Omodos and cap off the day with a wine tasting. Eva, one of our local guides, says of this excursion, 'You'll wander through layers of history, culture and mythology, and learn about Aphrodite. The rituals connected with her as well as the plants and seashells associated with her.'You'll dive straight into the past at Aphrodite's Beach to see Petra tou Romiou, a sea stack where, according to legend, love goddess Aphrodite was born. We keep theme ancient at Kourion, one of the most impressive archaeological sites in Cyprus. Visit the Roman baths and amble into the site's centrepiece, the Greco-Roman theatre. Concerts are still held to this day. The 15th-century Kolossi Castle is up next. This Crusader-built fortress is surrounded by blooming plants.Then, we'll head to mountain-fringed Omodos, where you'll have free time to wander around skinny cobbled streets lined with Byzantine buildings. It's Eva's favourite village. She says, 'The charm of the stone houses, the tranquillity and peacefulness. It's as if it has sprung from a fairytale.' You'll enjoy a 'KM0' lunch in a family-run taverna and drop into a 'kafeneio', where, says Eva, 'locals meet for philosophical discussions, political arguments and a bit of gossip'. Plus, there's a winery tour, where you'll learn all about sweet commandaria wine.
Duration
more than 8 hours
Food and drink are an intrinsic part of Cypriot culture. And this adults-only excursion is a celebration of the island's gastronomic delights. The fun kicks off in Kolossi, where you'll be invited to pick seasonal fruit and try the tangy lemonade to refuel for the journey head. Next, it's on to Agros village to sample homemade sweets and watch rosewater production as well as the chance to tuck into local smoked meats. Afterwards, continue to the village of Pelendri for lunch in a tavern. You'll then while away some time sipping wine at the Tsiakkas winery.
Duration
more than 8 hours
Leave the bustling beach resorts behind and spend a day in the sprawling fields of the Cypriot countryside at Golden Donkey Farm. Meet the friendly family of donkeys that live here, feed them, and learn about the benefits of drinking donkey milk – you can try some, too. There's also a wax museum, botanical garden and a cosy café serving snacks.
Popular experiences in Limassol