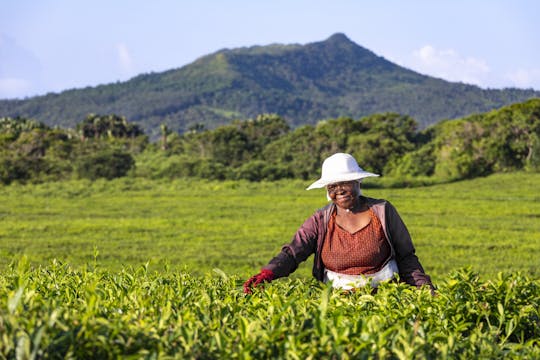 With miles of pristine coastline, you'd be forgiven for never leaving the beaches of Mauritius – but a journey into the island's interior is well worth the trip. On this tour, you'll see rich green fields and forest-clad mountains as you pick tea with the locals, enjoy a tea-inspired lunch and call by a banana chip factory and the Beau Climat Temple.The morning begins at the oldest tea producer in Mauritius – the Bois Cheri plantation. After breakfast, you'll be helping locals pick fresh tea leaves from the fields as your guide introduces you to the delicate process. Tea picking is thirsty work so having earned yourself a brew you can sample a range of flavoured, herbal and green tea varieties with a tasting experience.After a tasty tea-inspired lunch, you'll head on to Beau Climat Temple – a Hindu site were hundreds of islanders come to worship. Finally, we round off at the Maubon factory to learn all there is to know about making their tasty banana chips and a chance to try some too.
Duration
from 4 hours to 8 hours
Casela nature parks entrance ticket where you can interact with wildlife.
Popular experiences in Mauritius Island