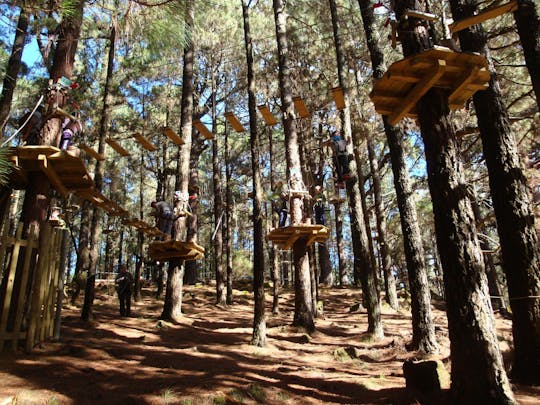 Swinging through the treetops, flying down zip lines and conquering obstacles high in the sky – Tenerife's Forestal Park will bring out anyone's inner Tarzan. This family-friendly treetop adventure playground features circuits and rope courses for all different abilities as well as a great day out in nature.Right on the edge of Teide National Park is an outdoor adventure playground where all ages and sizes can seek out all the thrills you desire. Forestal Park's circuits will see you leaping like Tarzan from tree to tree and taking leaps of faith to get you from one stage to the next.Once you've completed the Briefing Circuit, it's up to you whether you keep to the Family Course – suitable for ages five and up - or opt for the dizzying heights of the Sports Course, which is suitable for those aged 10 and over. There's an impressive array of games, challenging zip lines, climbing walls and suspension bridges to conquer – and a large Tarzan Swing to bring you back down to earth.
Duration
from 2 hours to 4 hours
This is just the activity for you if you've a taste for the high life. This paragliding experience offers bird's-eye views over southern Tenerife. You can choose to glide from Taucho at 800 metres or Ifonche at 1,000m. You'll fly tandem with 20+ years experienced pilots over Costa Adeje and the Barranco del Infierno gorge in a non-motorised dual paraglider.
Start your engines for a few thrill-pumping laps around Las America's go-kart track. Go head to head against friends and family around this 850 m outdoor circuit and see who comes out in pole position with a grand prix-style race. And with specially designed carts to suit adults, juniors and kids, everyone can get involved.
Popular experiences in Tenerife