Get to know Agadir like a local with your own private city tour, exclusively for you and your party. You'll stroll along the marina, snap selfies at the sandcastle-like ruins of the Kasbah and head into town to barter for bargains in the spice-scented souk. And after a whirlwind visit, you'll be back at your hotel in time for dinner.
Duration
from 2 hours to 4 hours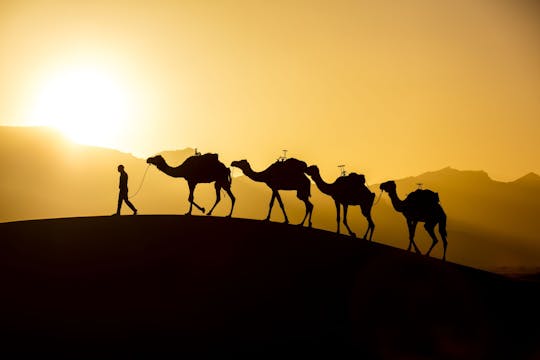 There's no more Moroccan way to go sightseeing than on the back of a camel. And with this two-hour ride in a caravan, you'll be at one with nature as well. We'll journey through Souss Massa National Park, just south of Agadir, where you'll have the chance to spot desert wildlife. Then, round off the experience with tasty local tea and pastries.We'll head to a ranch in Souss Massa, where you'll be partnered with a camel between two people before beginning your adventure. The camel trail takes you through parts of Souss Massa sprinkled with exotic landscapes, sandy dunes and the shade of fragrant eucalyptus trees. It's a route the whole family will enjoy.Over the two-hour trip, you'll enjoy a privileged view over the countryside and the chance to spot wildlife in its natural surroundings. Once you arrive back at the ranch, you'll be treated to some sweet Moroccan tea and tasty pastries in typical local hospitality – a great way to round off your experience.
Duration
from 2 hours to 4 hours

With plenty of time to soak up the sights, smells and sounds of Marrakech, this two-day tour immerses you into the city's colourful past and present. You'll travel from Agadir to see all the top sights, experience Djemaa el-Fna by night, dine in an opulent riad and check out the seaside city of Essaouira on your way back.On day one, we'll hit the road to Marrakech, where on arrival you'll delve straight into the medina's warren of tightly-packed streets. The Bahia Palace, Ben Youssef Madrasa and Museum of Marrakech are all on our list, as is a lunch at Dar Nejarine. After some free time to explore, in the evening we'll head to Djemaa el-Fna – the best time to see it – before sitting down for dinner followed by traditional entertainment in a riad.Day two, and we'll leave Marrakech behind, travelling to the coastal city of Essaouira. We'll stop at the Sqala, Mellah and port, enjoy some lunch and take a few hours for yourself to explore. Afterwards, we'll be back on the road, returning to Agadir in the early evening.
Duration
more than 8 hours
Popular experiences in Agadir